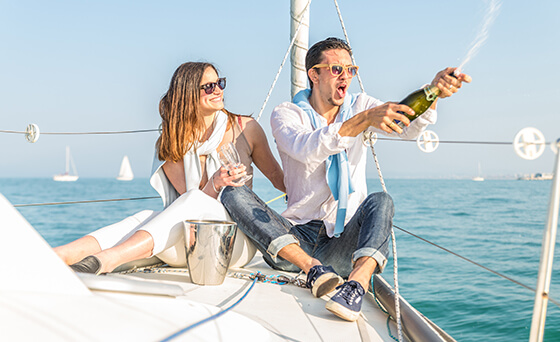 The past couple of years have flown by in a whirlwind of clickbait news and extreme weather. Some of us have had the most magical years of our lives, while others are ready to put them far in the past. To welcome 2022 with a flourish and bang, why not reserve your New Years in Miami on a yacht now. If you do not want to miss out, book a yacht in Miami now to ensure space and your choice of vessel.
Why do you need to reserve a private yacht now?
The new year is only 4 short months away and bookings for New Year's celebrations will come flooding in. Stay ahead of the game by booking now to ensure you have first pick in your yacht and itinerary. Let Instyle Yachts talk you through the process so you welcome the new year exactly as you envisioned it.
What yacht should you choose for a New Year's Party?
While the Instyle Yachts fleet is large and diverse, there are only certain Yachts such as the Neptunus 58′ that can house several couples in comfortable and separate accommodation. With its staterooms and ample entertaining area, it is the ultimate choice for a New Year's celebration.
Where can you go on your New Year's celebration?
The beauty of booking a private charter is that you can perfectly dictate your own itinerary. This means you can choose to begin your cruise during the day and enjoy the beauty of Florida on the last day of 2021. You can swim, snorkel, or sight see. Then as the evening approaches you can either head back onto land for an organized celebration or stay on board. With a private luxury vessel you will have the chance to taste premier chef cooked dishes, listen to a personalized playlist, and bring in the new year exactly as you imagined it. Then whether you wish to stay on board until the morning or return to land once the year has changed, both options are available to you.
What do you need to do to reserve your New Year yacht?
Get in touch with the helpful Instyle Yachts team with your vision and ideas. They will be able to match you with the best yacht available and guide you through the process of choosing your itinerary and more. They are looking forward to hearing from you. So, do not forget to book your New Year's celebration now before the limited availability runs out. If you would like to peruse the yacht options, click here for some of our favorites. The Sundancer, The Neptunus, and more!