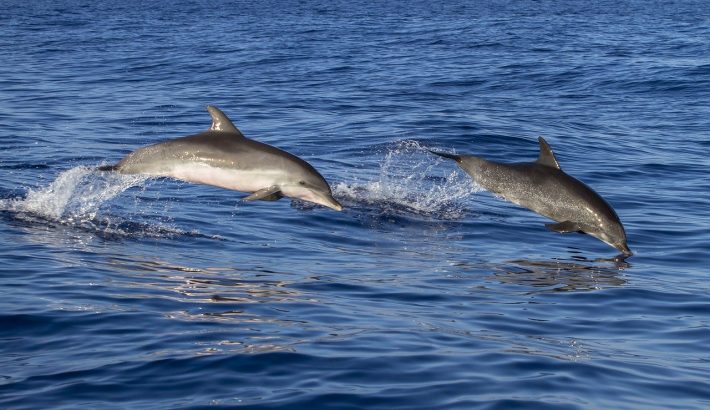 One of the biggest questions we get, is whether our customers will see wildlife on their private yacht charter. Sea life and wildlife tours are extremely popular in Florida. The coastline near Miami is lucky to be thriving with a large amount of aquatic life. Various sea birds flock in the sky, sea turtles come up for gulps of air, and occasionally you may spot some megafauna. Imagine this scenario: you are having a yacht wedding in Florida at sunset and a group of Dolphins cruise by. What a magical memory and photograph that will make.
What sea life can you see in Miami?
The water around Miami is teeming with wildlife. Alligators and crocodiles are probably the most iconic animals in the water ways. Manatees, also known as sea cows, are large herbivorous mammals that graze on sea grass. There are also several species of Dolphins that may play in the wake of your yacht. Killer Whales are occasionally spotted in the areas in pods. If you are an avid bird watcher, then you will love seeing them from a new perspective. Having your own private yacht charter means you are free to plan your own itinerary. Whether this includes visiting the Florida Reef or cruising within the city of Miami.
While Florida is known to have some of the biggest water parks with marine animals, seeing them in the wild is another thing entirely. When wildlife decides to visit you on the water is one of the most beautiful and unforgettable experiences. Whether you are on a vessel to celebrate a holiday or wedding, nature can surprise us. It also gives us an opportunity to see native creatures to our beautiful country. Unfortunately, keep in mind that wildlife interactions are random and not guaranteed.
Please be mindful of the Sea life
An important note to mention is that there are laws and rules about interactions with some of these marine creatures. For up-to-date information, please check with your yacht provider. Overall, it is forbidden to cut in front the path or to chase Dolphins, Manatees, or Killer Whales. Frequently, these animals are curious and will themselves dictate the form of interaction. However, for your safety and theirs, please adhere to safe boating and marine animal practises.
If you are unsure of the best boat rental in Miami Fl, fear not. In style yachts has first class customer service, a magnificent fleet of yachts, and years of knowledge and experience. With their help, you will be able to find the yacht best suited to your needs. Depending on the size of your party and duration of your trip, they will be able to guide you towards a specific yacht. If you are planning a wedding, or larger gathering, a yacht such as the Neptunus 58' would be ideal. This beautifully built vessel is designed for entertaining. It has large open spaces, state of the art sound system, and several staterooms.