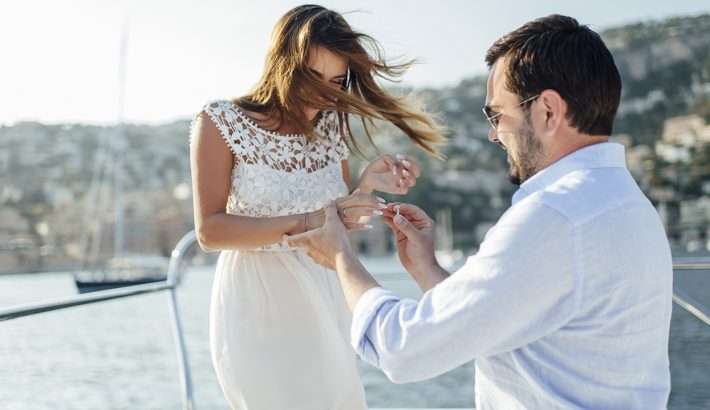 When you decide to propose you are beginning one of the biggest adventures in life. If you have gotten lucky enough to meet and fall in love someone you wish to spend the rest of your life with, this is a situation worth celebrating. To commemorate this magical and life transforming day, why not make the backdrop just as spectacular. In this post, we will give you some of our insights on engagements and proposals you can carry out once you book a yacht in Miami.
Why should you propose on a yacht?
Proposing on a yacht immediately fulfills several criteria of a romantic proposal. You have taken your other half on a luxurious and romantic evening or day time cruise. The vastness of the sea reminds us of the importance of our loved ones and gives us perspective on the busy lives we lead. With a private yacht charter such as the one you can organize through Instyle Yachts, you are also able to perfectly tailor your itinerary. This means you can marine watch, sight see famous landmarks, plan to watch the sunset, while playing all of your favorite music. You can personalize the whole experience specifically to you and your partner. Lastly, the photos from a proposal on a yacht will be absolutely stunning. Whether you choose to travel to a reef, gaze over the Miami skyline, or go for a quick cruise. Luxury yachts are an opulent and beautiful setting for getting down on one knee.
Where can you go with your chartered yacht?
The flexibility of renting your own private yacht is the main draw of the experience. You can either stick to a premade itinerary suggested by the Instyle Yachts crew, or work with our team closely to create a personalized trip. You may wish to stay around the city of Miami, cruise the coast to spot light houses, check out the Miami river at sunset, or go snorkeling on a reef. Florida has access to some of the world's most beautiful and biodiverse reefs. An underwater proposal, an adrenalin seeker snorkeling experience, or simply cooling off in the azure water are all possibilities. Get in touch to begin planning your romantic day.
Can you go on the private yacht overnight?
If you are looking for a longer celebration than just a quick engagement evening, then Instyle Yachts can help. With our wide array of luxury vessels in the fleet, we can choose one where you can stay overnight. The Neptunus 58′ is a prime example of spectacular engineering and flawless elegance. This gorgeous yacht can sleep you, and a few of your family members if you choose to include them in your special day. With spacious staterooms, ample seating space, a full galley, and entertaining areas, you can turn your engagement into a holiday. Cruise down to the Florida Keys and celebrate the next chapter of your life in style.
What should you not forget when proposing on a yacht?
When proposing on a yacht, almost everything is taken care of for you. Your captain, cruising destination, stunning backdrop, and romantic atmosphere are set. However, we would recommend potentially hiring an expert photographer, delightful chef, and possibly a musician or two to elevate the experience. Although most yachts have state of art surround systems meaning a good mix tape can also do the job. Lastly, just bring yourself, your better half and the optimism of a beautiful future. Instyle Yachts boat rental with crew will take care of everything else.