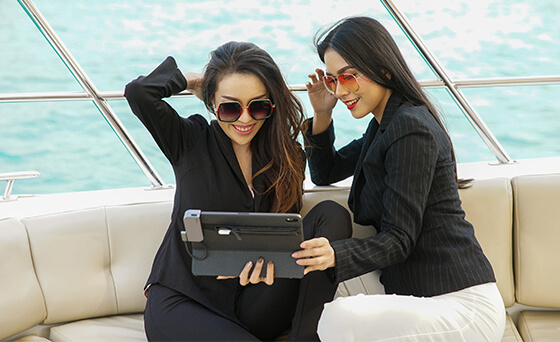 Are you looking for a new backdrop to your business meeting? Maybe you are hoping to impress a client, organize a team building day, or celebrate a momentous occasion in your company. So why not book a yacht in Miami for your next event? We can guarantee a stress-free booking and planning process allowing you and your team to focus on what matters. There are plenty of reasons to move your meetings from a board room and meeting on a yacht is perfect solution.
Where can you go with Miami Yachts?
The best part of booking your own private yacht, is that you are fully in charge of the day's itinerary. Whether you want to organize a quiet and private business meeting following by a dinner and cruise, or you opt for a more excitement filled schedule. Talk to the helpful Instyle Yachts team to see what options are best suited for you. Depending on the size of party you wish to accommodate, the team will also be able to point you towards the appropriate yacht.
What does renting a private yacht involve?
After choosing your ideal yacht you can coordinate with the Instyle Yachts team to select your itinerary and available date. Since we are approaching the best weather in Florida, yacht availability may go down. For this reason, it is a good idea to book your yacht well in advance. Once you have selected your itinerary then you may need to decide what food, drinks and other necessities you wish to bring on board. If you prefer, the Instyle Yachts team can organize catering or a chef to provide an exquisite meal to your guests.
What is the best suited yacht?
The Instyle Yachts fleet hold a diverse and varied number of vessels. They all have premium safety ratings and gorgeous, elegant finishes. As a luxury yacht fleet, you can expect everything from a speedy Sundancer to carry you to your destination or the spacious Neptunus 58'. The Neptunus 58' is the pinnacle of luxury and includes several comfortable seating areas. It also has state of art surround sound system, a full galley and fridges to keep snacks and drinks cool.
What are some possible ccc
If you are eager to book your yacht rental in Miami, then you may be wondering what options there are for day or evening trips. One of the most popular options include some relaxing on the coast and doing sightseeing of Miami city. This is a great itinerary if you have visitors coming to Florida from other states or countries. Another option is the sunset cruise combined with a dinner on the canals. If there is anything you would like to organize, do not hesitate to contact Instyle Yachts.