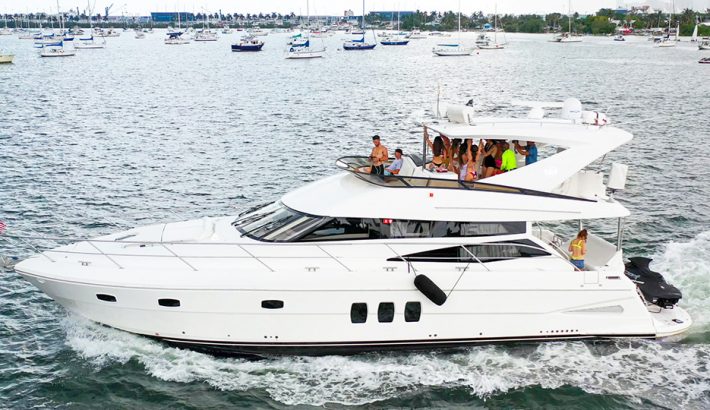 What does a day on a boat look like? You may have always wanted to charter a private yacht, however, what can you expect? In this blogpost, we will walk you through a typical (or not so typical) day onboard one of our luxury yachts. Keep in mind that if you book a yacht rental in Miami, every trip will be unique. For this reason, this post is just a general outline of a captain's day on board.
What happens before a charter?
The preparation starts long before a yacht charter hits the water, and the adventure commences. A captain begins any journey with careful inspection of the vessel. They need to make sure that all the boat safety measures are up to date, the logbook has been signed off, and the conditions are good for sailing. While Florida has warm air and water temperatures throughout the year, the hurricanes, winds, and waves may interfere. For a successful and comfortable boat ride, a captain is looking for low winds and clear skies. Captains will be frequently checking on the weather across a variety of apps to ensure they have the most accurate predictions before they set sail. Luckily, the luxury yachts at Instyle Yachts are all cruising yachts and do not have to depend on the wind. After the captain has checked all the safety measures, the wind conditions, and the dream itinerary, they will step onboard.
What is the cruising like on board a luxury yacht?
The beauty of a private luxury yacht is that every trip is unique to the customer. While Instyle Yachts offers several options for base itineraries, we pride ourselves in providing you a personalized experience. If there is a particular sight you would like to see in downtown Miami, or a special reef to visit, we aim to please.  Depending on the length of your trip and the weather, the captain will organize the best trip possible for you. As a private charter you can choose how long you wish to stay at a particular spot to dive, snorkel, or relax. The cruise will be itinerary and weather dependent, but you can depend on ample water, delicious snacks, and beautiful sights wherever you go. The Florida coastline boasts some of the most stunning reefs and large amounts of marine biodiversity. See how many different species you can spot on your trip.
What happens after the charter?
Once you dock back into the port, your day may have finished. You can go home and relax and review the photos you have captured on your beautiful day. For the crew and captain, the work has almost just begun. Along with cleaning the vessel from the day's activities, the engine and equipment all need to be flushed with fresh water. Salt water is extremely corrosive and can significantly decrease the life span of most things. That is why fresh water is employed to rejuvenate the vessels to keep them in good condition. The equipment is checked again, dried, secured and stored. The logbook is finished, and any fuel, breakages, and incidents are reported and fixed. With yacht rental in Miami, these are things you do not need to worry about. Instead, your job on the day is to enjoy the trip and stunning country we live in. Book now with Miami Instyle Yachts.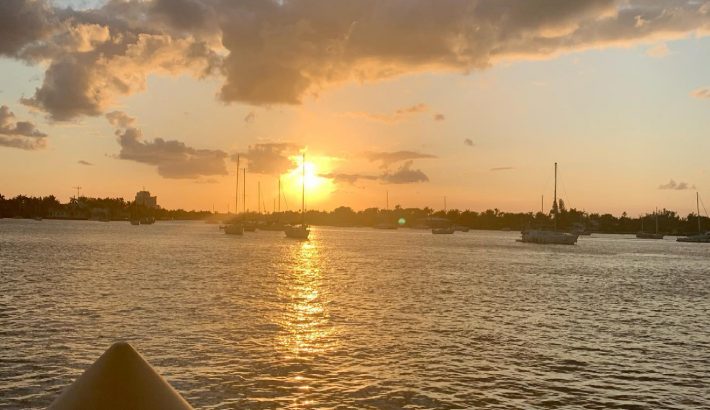 It is undisputed that the best way to see a sunset is onboard a boat. The colors of the sun reflecting from the surface of the waters cast a spectrum of orange and reds across the sky. An oceanside sunset is a sight to behold, and cruising on a private yacht is a way to see it. If you want to experience a romantic luxury sunset cruise, then you can book with Instyle yachts. Let this private yacht charter in Miami schedule an unforgettable and beautiful sunset cruise. It is the best Miami boat rental with crew available in southern Florida.
Where can you do a sunset cruise?
The sun sets in the west, so if you travel out to see by boat you will be able to see the majestic array of colors setting behind the Miami skyline. With Instyle Yachts you can rent out a private yacht charter and enjoy an evening cruise. A sunset cruise can take you along the coast of Miami, to some of the most picturesque houses on the star studded islands, or the inner city canals. A sunset cruise can be paired with delicious champagne, little snacks, or dinner then it can be organized. Based on what vessel you choose, there is an abundance of options for your evening. Your sunset cruise can be part of a larger package, or a couple hour affair on a designated day.
What yacht can you take for a sunset cruise?
If you are looking for the ultimate romantic evening sunset trips, then we would recommend one of our smaller cruising yachts. These yachts such as the Maiora are large enough for a comfortable ride, space enough to stretch out, and enjoy your sunset degustation. If you rather choose a larger yacht, we recommend the Neptunus 58′. This yacht can accommodate a larger party and provides plenty of areas to entertain. Individuals may choose to sit inside the elegantly finished living room or on the comfortable outdoor seating. In addition, this yacht has a full galley and fridges to keep your food and drink fresh and cool. But that is not all, if you are prone to seasickness this elegant vessel will make you quickly forget you are on a boat.
What services can you expect on a sunset cruise with Instyle Yachts?
Your sunset cruise can feature all the additives that you desire. With Instyle Yachts, the crew can ensure your sunset cruise has the snacks, drinks, and music you wish. All the yachts have state of the art sound systems so you can connect your own music through Bluetooth. In addition, InStyle Yachts offers a full catering service if you require and can fulfil your dietary requirements. The reason that Instyle Yachts is one of the best Miami yacht charter company is because of their unparalleled customer service. The team will be with you every step of the way. So, pick up the phone or send an email with your proposed dates, and let them craft your cruise for you.