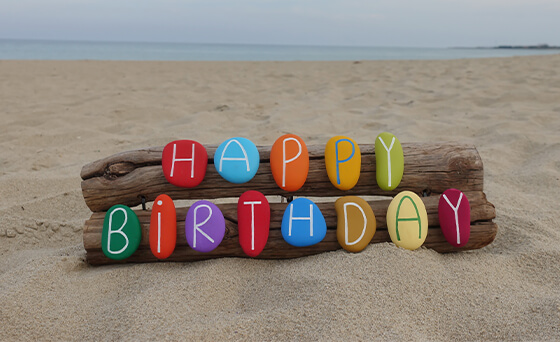 Some of the most important and memorable birthdays in our life occur during our teenage years. Whether you are someone who wants to spend this day celebrating with your family or all your friends, rejoicing over teen milestones is a dear part of these fleeting years. That is why we recommend to book a yacht in Miami to create an unforgettable teenage birthday party on board. Speak to our knowledgeable and helpful team to find the best yacht and itinerary suited for you.
Is a teenage birthday party possible on a yacht?
Yes. A teenage birthday party is ideally suited to be celebrated on a yacht. A small group of close friends can take advantage of the endless possibilities available on a private charter yacht. Whether your teenager is a fan of adrenalin and adventure or would rather lean into a classy evening celebration both are possible. Have a look at the Instyle Yachts fleet to see if any vessel matches the dream boat for this experience.
An adrenalin filled Birthday
If your teenager is fan of adventure and sports, then hiring a private yacht will get them a first-class seat to their favorite activities. The itinerary you plan with the help of the Instyle Yachts crew can feature the most incredible Florida reefs, spots for diving into the azure water, and snorkelling the pristine water. You can also opt for a speed boat and have the captain show off the speed and technology of these premium vessels.
Classy evening celebration
On the other hand, if your teen wishes for a more elegant and grown up evening, Instyle Yachts can cater to this type of event. By taking inspiration from the popular sunset cruises and sight-seeing tours, this celebration can feature a sit-down dinner and premium views. The sunsets on the water are particularly spectacular and allow your teen an exclusive and memorable birthday extravaganza.
What facilities are available on the yacht?
Depending on what vessel you choose, the facilities will range from ample comfortable seating spaces to full luxury staterooms and large common areas. The Neptunus 58′ for example, has surround sound systems, several spaces for entertaining, and three full size state rooms with an adjoining bathroom. There are fridges for keeping drinks cool and a full-size galley for a chef to cook up a feast. If you are looking for anything, do not hesitate to contact the Instyle Yachts team to find what yacht will be the best for you. All yacht is equipped with up to date safety equipment and all the staff are trained for emergency situations. So, sit back and enjoy the celebration with your growing young adult.
The best part of a Birthday party on a yacht.
The best part of a luxury yacht rental in Miami such as Instyle Yachts for your teenagers birthday, is the incredible photos. Whether you wish to display them on your wall or on Instagram, the background of the Miami skyline from a yacht will elevate the photos taken from the birthday party. Have you followed us on our Facebook page? It is a great place to stay updated with the latest news.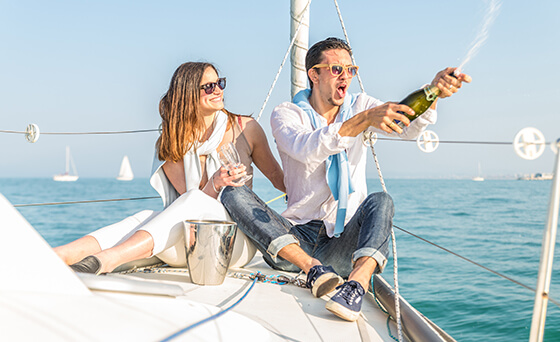 The past couple of years have flown by in a whirlwind of clickbait news and extreme weather. Some of us have had the most magical years of our lives, while others are ready to put them far in the past. To welcome 2022 with a flourish and bang, why not reserve your New Years in Miami on a yacht now. If you do not want to miss out, book a yacht in Miami now to ensure space and your choice of vessel.
Why do you need to reserve a private yacht now?
The new year is only 4 short months away and bookings for New Year's celebrations will come flooding in. Stay ahead of the game by booking now to ensure you have first pick in your yacht and itinerary. Let Instyle Yachts talk you through the process so you welcome the new year exactly as you envisioned it.
What yacht should you choose for a New Year's Party?
While the Instyle Yachts fleet is large and diverse, there are only certain Yachts such as the Neptunus 58′ that can house several couples in comfortable and separate accommodation. With its staterooms and ample entertaining area, it is the ultimate choice for a New Year's celebration.
Where can you go on your New Year's celebration?
The beauty of booking a private charter is that you can perfectly dictate your own itinerary. This means you can choose to begin your cruise during the day and enjoy the beauty of Florida on the last day of 2021. You can swim, snorkel, or sight see. Then as the evening approaches you can either head back onto land for an organized celebration or stay on board. With a private luxury vessel you will have the chance to taste premier chef cooked dishes, listen to a personalized playlist, and bring in the new year exactly as you imagined it. Then whether you wish to stay on board until the morning or return to land once the year has changed, both options are available to you.
What do you need to do to reserve your New Year yacht?
Get in touch with the helpful Instyle Yachts team with your vision and ideas. They will be able to match you with the best yacht available and guide you through the process of choosing your itinerary and more. They are looking forward to hearing from you. So, do not forget to book your New Year's celebration now before the limited availability runs out. If you would like to peruse the yacht options, click here for some of our favorites. The Sundancer, The Neptunus, and more!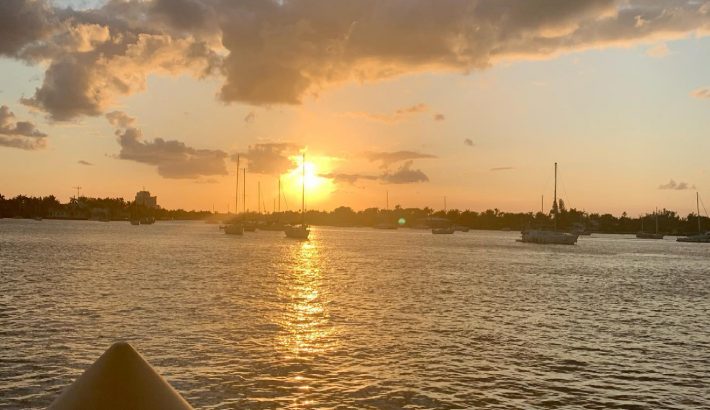 It is undisputed that the best way to see a sunset is onboard a boat. The colors of the sun reflecting from the surface of the waters cast a spectrum of orange and reds across the sky. An oceanside sunset is a sight to behold, and cruising on a private yacht is a way to see it. If you want to experience a romantic luxury sunset cruise, then you can book with Instyle yachts. Let this private yacht charter in Miami schedule an unforgettable and beautiful sunset cruise. It is the best Miami boat rental with crew available in southern Florida.
Where can you do a sunset cruise?
The sun sets in the west, so if you travel out to see by boat you will be able to see the majestic array of colors setting behind the Miami skyline. With Instyle Yachts you can rent out a private yacht charter and enjoy an evening cruise. A sunset cruise can take you along the coast of Miami, to some of the most picturesque houses on the star studded islands, or the inner city canals. A sunset cruise can be paired with delicious champagne, little snacks, or dinner then it can be organized. Based on what vessel you choose, there is an abundance of options for your evening. Your sunset cruise can be part of a larger package, or a couple hour affair on a designated day.
What yacht can you take for a sunset cruise?
If you are looking for the ultimate romantic evening sunset trips, then we would recommend one of our smaller cruising yachts. These yachts such as the Maiora are large enough for a comfortable ride, space enough to stretch out, and enjoy your sunset degustation. If you rather choose a larger yacht, we recommend the Neptunus 58′. This yacht can accommodate a larger party and provides plenty of areas to entertain. Individuals may choose to sit inside the elegantly finished living room or on the comfortable outdoor seating. In addition, this yacht has a full galley and fridges to keep your food and drink fresh and cool. But that is not all, if you are prone to seasickness this elegant vessel will make you quickly forget you are on a boat.
What services can you expect on a sunset cruise with Instyle Yachts?
Your sunset cruise can feature all the additives that you desire. With Instyle Yachts, the crew can ensure your sunset cruise has the snacks, drinks, and music you wish. All the yachts have state of the art sound systems so you can connect your own music through Bluetooth. In addition, InStyle Yachts offers a full catering service if you require and can fulfil your dietary requirements. The reason that Instyle Yachts is one of the best Miami yacht charter company is because of their unparalleled customer service. The team will be with you every step of the way. So, pick up the phone or send an email with your proposed dates, and let them craft your cruise for you.