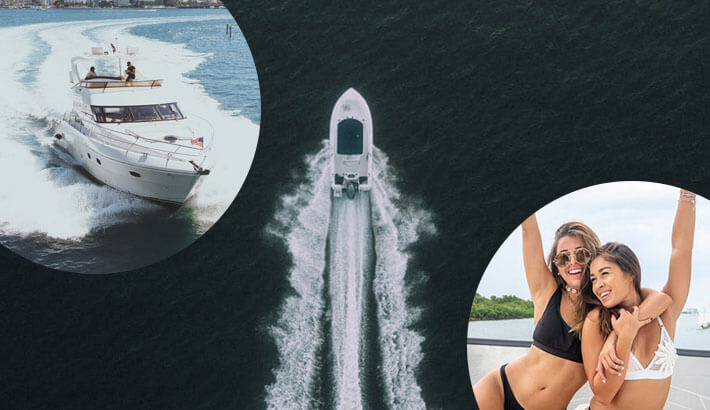 Elevate your Superbowl experience with a classy pregame onboard a private yacht charter in Miami
You may have heard of tail gating, but what about yacht cruising? Elevate this years Superbowl experience by having your pregame on board a private yacht charter in Miami. The private yacht allows you to personalize your experience and celebrate in style. Book a yacht in Miami with your friends to experience the excitement before a Superbowl while listening to music and jumping into the azure water. In the end, even if your team does not win the Superbowl, you would have won the day.
Change your pregame ritual
After all these years, have you grown tired of your existing pre Superbowl rituals? Are you looking for something new? Exciting? Maybe a way to change your luck for the day? Well here at Instyle Yachts, we recommend changing your perspective on the situation with a private yacht charter. With this flexible and luxury option you can entertain your guests, eat a delicious selection of meals, and accommodate your favourite people.
Where can you go with a private yacht charter?
Instyle Yachts has plenty of customers who personalise their boating experience to match their dream day. Maybe you want to sight see Miami before watching this iconic game? In this case, you can organize to visit the Flagler monument, Star and Hibiscus islands. Alternatively, you may wish to jump into the clear Miami water to refresh and rejuvenate before the game. In this case, the whole coast is open to you on this adventure. If you wish to travel up and down the coast and sight, see, potentially even start watching the game on board, that is also possible.
Can you watch the Superbowl onboard a private yacht?
As mentioned above, the benefit of a private luxury yacht is that you are the captain. This means, if you want, the Instyle Yachts team will be able to organize for you to watch the game onboard the luxury yachts. Some of the larger models, such as the Neptunus 58' have surround sound entertainment and screens for you to watch the game. So, bring your wings, your friends and cross your fingers for a Superbowl victory. If you have any specific questions, please contact the helpful Instyle Yachts team.
Pregame onboard a luxury yacht
So, what are you waiting for? Give Instyle Yachts rental Miami a call, to book your yacht for the Superbowl today. You do not want to miss this unique opportunity or to have the first choice of vessels. Enjoy the Miami skyline from onboard a luxury yacht. If you want to have a look at the Yacht options, click here for the full selection of the fleet.