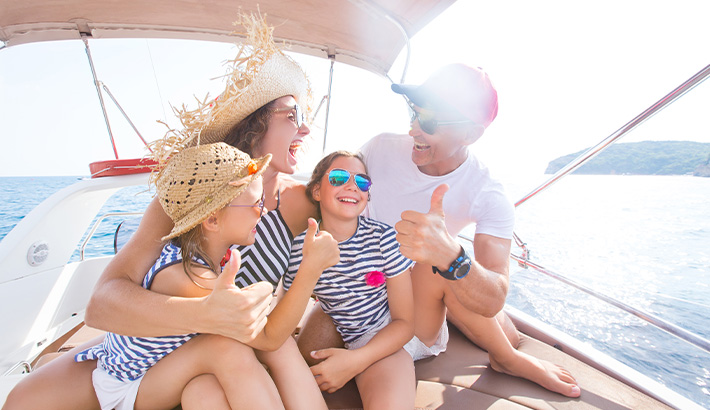 Want the ultimate fun day for the family? Because with Instyle Yachts we can organize the best day out on the water with fun for the whole family. Book a yacht in Miami to explore the Florida Coastline or the coral reefs. The friendly team at InstyleYachts will help create a personalized itinerary with activities and fun for every age.
What can you do with children on a yacht?
Children and yachts are a fantastic combination. While you need to be a bit more careful with supervision, flotation devices, and sun safety, bringing your family onboard is a rewarding experience. Along with cruising the azure water and bird spotting, your kids can have an adventure of a lifestyle. Here are a couple of the most child friendly activities on board a private vessel.
– Bird spotting
– Marine Mammal identification
– Snorkeling with flotation devices
– Water tubing or jet skiing
– Exploring coast lines
– Sight-seeing the famous Miami sites
– Art or photography of the surrounding environments
– Learning about the yacht and engineering
What are some ways you can get your children involved on a yacht?
The best way to turn your yacht adventure into a family experience, is to have your children join in the planning process. While you will have your final say, here are our top tips for entertaining your children on board one of our yachts.
– Let them be part of the planning process. Show them marine maps and coastal areas so they can partake in choosing the itinerary. See what destinations they want to stop at and what they would like to see. With a physical or digital map, they can also plot their desired route and see if they can follow it in real time.
– Get the children involved in the sailing process. Have them learn about the importance of wind, waves, currents, and other weather conditions. This way they can not only learn about the world around them, but also be a helpful addition in assessing the anchorage and driving conditions.
– Buy a wildlife spotting book. This way they will stay occupied on board by trying to see and identify the various marine animals you come across. Whether it is spotting sea birds that are flying overhead or identifying the species of dolphin or turtle poking their head out of the blue water.
– Plan plenty of water-based activities including swimming, snorkeling, or if they are over the age of 12, scuba diving. Water based activities will tire them out, provide them with a healthy outpour of energy, and tire them out.
– Invest in a waterproof camera. Currently, sport action cameras and other digital cameras that can go underwater are relatively reasonably priced. Investing in one of those will give your children hours of entertainment when they jump into the water. See them zoom around the coral reef and try to snap pictures of the fish.
– Bring board games and books just in case. If the weather turns a little cloudy or they get a little sun kissed, some quiet shady games are a great option. Board games, card games, and books are a fantastic way to spend the time while relaxing on board a boat.
Why choose a private yacht for a family trip?
A private yacht is the ultimate family holiday trip as it gives you the perfect flexibility and privacy. Do not worry about the constraints of official tour groups and existing itineraries. Plan a yacht rental in Miami with Instyle Yachts for your next holiday!