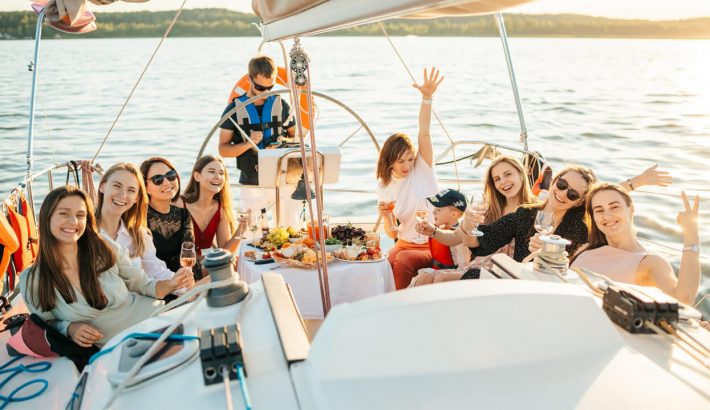 Are you looking for a new and exciting option for your next holiday? Because we have the answer for you. Book a yacht in Miami for the most personalized, luxurious, and relaxing holiday. Whether you wish to go away for a weekend or a week, Instyle Yachts can organize your itinerary. Sit back and let the friendly team walk you through the whole process. Forget relying on others for your holiday. Organize your itinerary exactly how you want it for an unforgettable trip on the sea.
Why book a private charter yacht?
Unlike pre booked tourist cruises, a private charter yacht allows you ultimate flexibility. Whether you wish to choose your departure time, location, destination or more. With the knowledgeable and helpful team at Instyle Yachts, they can guide you through the whole process. Let them suggest options of where to go, but at the end of the day, you are the captain. Make the choice of where your cruise will take you. Choose what foods and drinks you want onboard. As well as take full control of the state-of-the-art sound system. With you in charge, your holiday is perfectly suited for your needs. The private yachts are luxurious and have ample space for entertaining and relaxing.
They are also rated first class in their engineering and safety features. 
What can you do on a private charter yacht?
The best part of a private yacht charter is choosing your activities to suit your friends or family's needs. Whether you wish to spend the whole-time cruising near the center of downtown Miami. Or you want to go snorkeling on Florida's Coral Reefs. The options are endless. Check out some of our other posts about more in-depth options of where to go. Here are just a couple of the most popular options.
 Visiting lighthouses along Florida's Coast
 Snorkeling one of the many coral reefs
 Sightseeing the magnificent islands in Miami
 Star spotting the houses of the rich and famous
 Traveling down to Islamorada by yacht
 Watching the sunsets and Miami skyline
 Romantic cruises in the harbor and surrounds
 Exploring the rugged and stunning coast of south Florida
What yacht should you choose?
Depending on how many people you wish to bring on your holiday, the team at Instyle Yachts may be able to point you in the right direction. The Instyle Yachts fleet contains yachts ranging from 26′ to an impressive 80′. If you are looking for a shorter day trip for your holiday, you may want to consider one of the smaller cruisers. These speed boats are built with elegance and adrenaline in mind. For a longer holiday, some of the fleets are equipped with staterooms and ensuites. Have a look at the magnificent Neptunus 58′. This star of the Instyle Yachts Fleet has 3 full size staterooms, galley, seating area, and multiple bathrooms and showers. On a longer trip this yacht can double as a five-star hotel. If you feel overwhelmed by choice, fear not. Give Instyle Yachts a call now to start planning your holiday today at the best yacht rental in Miami.