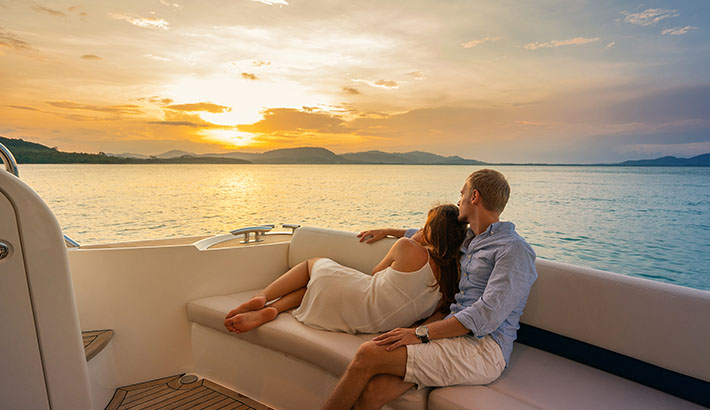 There is nothing quite as magical as watching the sunset onboard a boat. Book a yacht in Miami to have the perfect evening with your loved one or family. With Instyle Yachts, we can organize the dream sunset charter and dinner on the Miami River. Our fleet has a wide selection of yachts to suit your needs.
Why choose a sunset charter?
While cruising the coast or river of Miami is beautiful any time of day, there is something perfect about golden hour. From the time when the sun starts dipping down the colors in the surroundings transform. The Miami River and ocean absorbs the sunlight to paint a beautiful palette of colors. If you have ever been on the sea, you will know how stunning sunsets can be on a boat. A sunset charter with Instyle Yachts combines this magnificent backdrop with a quaint and romantic dinner setting.
What can you see on the Miami River?
The Miami River provides a perfect combination of nature and metropolis. Onboard your luxury yacht you can cruise from the Port of Miami through the canals and into the Miami River. The city of Miami reaches high from the banks of the river and gives you a unique perspective on the buildings. If you are a fan of architecture, or prefer to stay away from crowds, then sightseeing the city by boat is for you. You can combine seeing the wildlife in the Miami River with stopping at some of the iconic Miami points of interest.
What iconic spots can you see from a boat?
If you re interested in seeing some of Miami's famous points of interest, then consider combining them with your evening cruise. The Flagler monument, Hibiscus and Star Islands are just some of the spots you can cruise past. Once the sun sets, Miami puts o an impressive show with it's twinkling lights and tall skyline.
What yacht is best suited for cruising?
If you are looking for a sunset and dinner cruise in Miami, you can opt for one of the smaller yachts. These yachts are more manoeuvrable yet still provide ample space for seating and dining. The Sundancer series are a combination of luxury and sport to meet the needs of any couple or small family. Have a look at the options here, and feel free to get in touch with our friendly team about any specific questions.
What are the dinner options?
Lucky for you, one of the main benefits of a private luxury cruise is that you can personalize everything from your itinerary to your meal. Get in touch with the Instyle Yachts crew and let them know your preferences. They will be able to help provide a catering service, freshly cooked meal, or quick picnic. Your wish is our command. We are here to make your trip ideal, so get your yacht rental in Miami organized today.