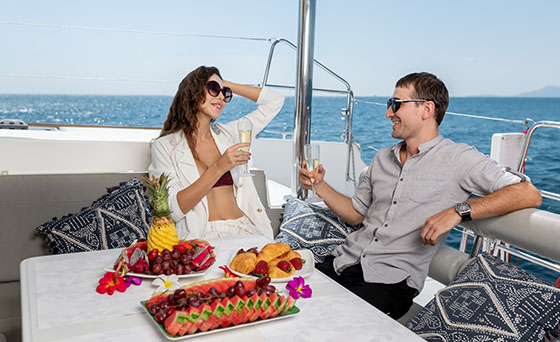 Looking for a unique way to surprise your loved one on your next anniversary? Why not book a yacht in Miami? This luxurious opportunity will give you and your partner the best setting to celebrate. Enjoy the views of the Miami skyline, the stunning Florida coast, and the sparkling azure water!
What can you do on a private yacht charter?
The best thing about a private yacht charter, is that you can completely personalize your itinerary. With Miami Instyle Yachts the friendly team can organize your dream getaway or day trip. Departing from the Miami base, you can take your private yacht to a variety of destinations. Whether you enjoy sight seeing or sailing the crew can take care of you.
Here are some of your options
Sightsee the famous locations around Miami from the yacht
Cruise the Florida coastline in search of popular lighthouse
Whale and animal watch on the water
Sunset and dinner cruise night
Snorkeling on the closest Florida Reefs
Head down to the islands of the Florida Keys
What does have a private yacht mean?
If you charter a private yacht, it means you have complete control over your day. Starting with choosing the best yacht for you. Give Instyle Yachts a call to discuss the options. Alternatively, you can have a look at the fleet catalogue on the Website. Depending on whether you want to celebrate your anniversary as a couple or a family, there are options for you to choose. Some yachts available have ample space for entertaining.
What yacht do we recommend?
If you want to make it a short couple's excursion, then maybe consider a small and nimble yacht such as the Sundancer 36'. This sleek sports power boat provides a comfortable ride and a rush of adrenalin with its powerful motors. If you are looking for something more leisurely, then a larger vessel such as the Sundancer 52' may be better suited. This yacht has comfortable seats where you can lounge while enjoying the magnificent few. With a bottle of champagne and some treats, this yacht can turn into the ultimate romantic date. On the other hand, a yacht such as the Majestic Neptunus 58' can host entire family. With surround sound entertainment, a full galley, and several seating areas you can turn the anniversary into a real celebration.
Why book a private yacht?
A private yacht charter such as the one provided by Instyle Yachts is the sailor's dream. With top-of-the-line engineering and design, these vessels are built with ultimate safety and comfort in mind. Your partner will feel pampered and spoilt onboard these luxury yachts and will give you an anniversary to never forget. Instyle Yachts is a premier yacht rental in Miami that gives customers the chance to experience the magic of the sea. Say goodbye to cruises, crowded places, and restricting itineraries. Say hello to the glory of cruising the waters of Florida.