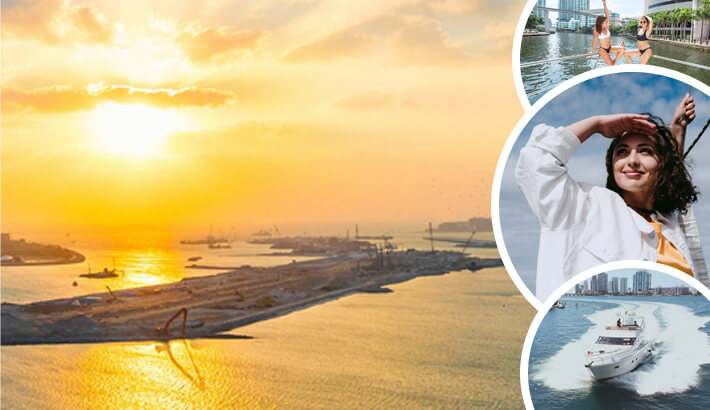 There is nothing better than spending the warm sunny days onboard a yacht. However, in recent years we have learned the potentially negative effects of sun exposure. In this post we will cover the top ways on how to stay safe in the sun. All the while, having fun! When you book a yacht in Miami with us, we take care of every little detail. This way, you can just sit back and relax to enjoy your trip. On the other hand, sun safety tips are handy in everyday life. Here are our top five tips.
Sunscreen is your best friend
Sunscreen is the primary line of defense against premature aging and potentially harmful UV radiation. A full spectrum high SPF (30 or more) is the ideal sunscreen to use when going on a boat. Since there is a chance of getting splashed or jumping in the water, we would recommend investing in a physically protective sunscreen. In comparison to chemically based sunscreen, physical blocking sunscreens rely on ingredients such as zinc to completely stop the UV radiation from reaching your skin. Chemical sunscreen on the other hand, simply changes the outcome of the impact on your skin. While chemical sunscreen has been the norm for the past few years, it has been linked with coral reef degradation. For this reason, we would encourage you to seek out reef safe sunscreen created from non nano particles that protect you and our ocean.
Hats and Physical barriers
While sunscreen is our go to solution to protecting ourselves from the sun, physical barriers are even better. Grab a hat, cap, and a light linen long sleeve shirt to bring on board with you. Once you're done swimming, simply throw the cover over yourself for a stylish yet protective layer. Even the best sunscreen will not be as efficient in keeping our solar rays as a shirt or hat. Be mindful that when you are on the boat, the sun's rays reflect from the surface of the water. This means, even with a hat, you must combine your sun protection methods with sunscreen.
Not only are polarized sunglasses the best option for eye protection from the sharp glare but they also help you see better on the water. Polarized sunglasses eliminate some of the reflected light that shines from the surface of the sea. This means you will be able to look through the water better and spot coral reefs, turtles, and other marine animals easier! A good pair of polarized sunglasses, and even a back up, are a must have when on a yacht.
Lastly, but certainly not least, to stay sun safe onboard a boat rental with crew, is to drink enough water. Keep a water bottle or some electrolyte drinks nearby. Swimming and spending the day in the sun will typically exhaust anyone who is not used to it. Drinking water will avoid dehydration, headaches, and will keep your body functioning ideally. If you have any additional questions about sun safety, do not hesitate to contact the friendly Instyle Yachts team.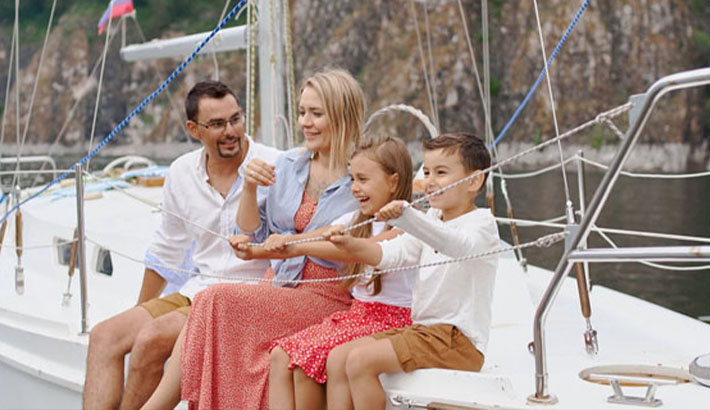 For a fun filled day, why not book a yacht in Miami for the whole family? A private yacht charter from Miami gives you the flexibility that the family dynamic need. Choose your departure time, the itinerary, destination, and food best suited for your needs. This post will give you some of the ways your family can enjoy being out on the sea. Book one now!
Can children go on a yacht?
Children of all ages are welcome onboard a yacht. While they are under the age of 12, they are required to always wear a life vest. This ensures their safety. It is also important to keep a close eye on your children as there is a small chance they can fall overboard. Children may also be prone to sea sickness, so consider investing in sea sickness medication prior to boarding the vessel. While there are some extra safety considerations with children, they will certainly enjoy their day on the sea.
Must haves for children on a yacht
If you are bringing your children on the yacht, please make sure to bring the following.
Sunscreen
Hat and body protection from the sun
Ample water and other fluids
Sunglasses
Towels
Activities (including animal spotting books, colouring, snorkelling equipment, or binoculars)
Keep in mind that the sun rays reflecting off the ocean can cause sun burn so reapply sun protection frequently.
What animals can they see on the yacht?
A favourite past time of many children includes animal spotting. The coastline of Florida is the home of many creatures including plenty you and your family can spot from the yacht. Dolphins frequently ply in the waves, a large variety of bird species sit on the coast or glide through the sky, and the reefs are a hub of marine biodiversity. If your children are adventurous and confident swimmers, they may enjoy diving beneath the waves to explore the underwater world.
Can your children snorkel?
If you choose to take your yacht charter to visit one of Florida's reefs, your children will have the chance to jump in and see Nemo's home. The water is warm through out the year and visibility is good. This means their snorkelling experience will be pleasant experience no matter what time of the year you go. If they are prone to being cold, consider bringing a wetsuit for additional warmth.
Family of all ages enjoy the time on the yacht
An adventure on the sea is truly an experience that the whole family can enjoy. Whether it is a toddler sitting on their father's lap, an eager child ready to spot the first turtle, or a hip teenager unsure about the family time of it all. Florida's coastline and reefs can turn anyone into an excited sailor. So, contact Instyle Yachts today to organize yacht rental in Miami.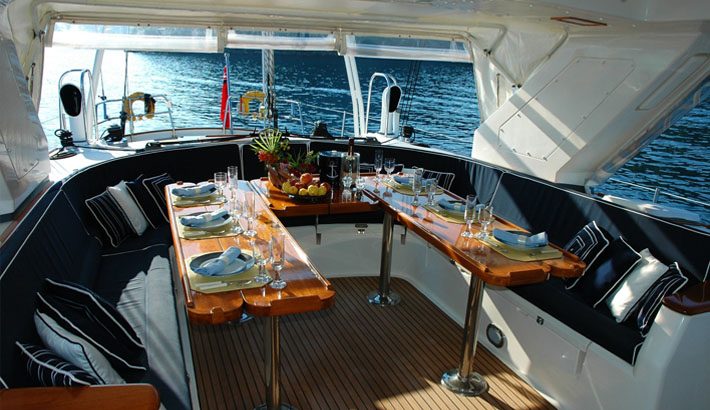 Looking for a unique way to surprise your loved one on your next anniversary? Why not book a yacht in Miami? This luxurious opportunity will give you and your partner the best setting to celebrate. Enjoy the views of the Miami skyline, the stunning Florida coast, and the sparkling azure water!
What can you do on a private yacht charter?
The best thing about a private yacht charter, is that you can completely personalize your itinerary. With Miami Instyle Yachts the friendly team can organize your dream getaway or day trip. Departing from the Miami base, you can take your private yacht to a variety of destinations. Whether you enjoy sight seeing or sailing the crew can take care of you.
Here are some of your options
Sightsee the famous locations around Miami from the yacht
Cruise the Florida coastline in search of popular lighthouse
Whale and animal watch on the water
Sunset and dinner cruise night
Snorkeling on the closest Florida Reefs
Head down to the islands of the Florida Keys
What does have a private yacht mean?
If you charter a private yacht, it means you have complete control over your day. Starting with choosing the best yacht for you. Give Instyle Yachts a call to discuss the options. Alternatively, you can have a look at the fleet catalogue on the Website. Depending on whether you want to celebrate your anniversary as a couple or a family, there are options for you to choose. Some yachts available have ample space for entertaining.
What yacht do we recommend?
If you want to make it a short couple's excursion, then maybe consider a small and nimble yacht such as the Sundancer 36'. This sleek sports power boat provides a comfortable ride and a rush of adrenalin with its powerful motors. If you are looking for something more leisurely, then a larger vessel such as the Sundancer 52' may be better suited. This yacht has comfortable seats where you can lounge while enjoying the magnificent few. With a bottle of champagne and some treats, this yacht can turn into the ultimate romantic date. On the other hand, a yacht such as the Majestic Neptunus 58' can host entire family. With surround sound entertainment, a full galley, and several seating areas you can turn the anniversary into a real celebration.
Why book a private yacht?
A private yacht charter such as the one provided by Instyle Yachts is the sailor's dream. With top-of-the-line engineering and design, these vessels are built with ultimate safety and comfort in mind. Your partner will feel pampered and spoilt onboard these luxury yachts and will give you an anniversary to never forget. Instyle Yachts is a premier yacht rental in Miami that gives customers the chance to experience the magic of the sea. Say goodbye to cruises, crowded places, and restricting itineraries. Say hello to the glory of cruising the waters of Florida.