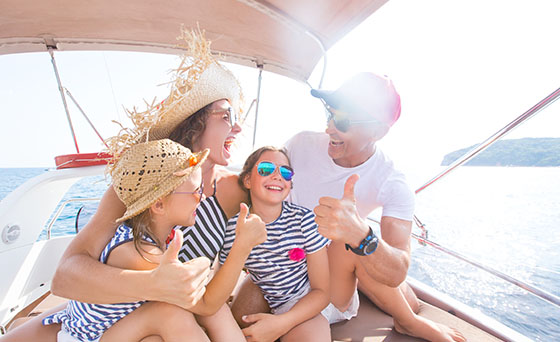 For a fun filled day, why not book a yacht in Miami for the whole family? A private yacht charter from Miami gives you the flexibility that the family dynamic need. Choose your departure time, the itinerary, destination, and food best suited for your needs. This post will give you some of the ways your family can enjoy being out on the sea. Book one now!
Can children go on a yacht?
Children of all ages are welcome onboard a yacht. While they are under the age of 12, they are required to always wear a life vest. This ensures their safety. It is also important to keep a close eye on your children as there is a small chance they can fall overboard. Children may also be prone to sea sickness, so consider investing in sea sickness medication prior to boarding the vessel. While there are some extra safety considerations with children, they will certainly enjoy their day on the sea.
Must haves for children on a yacht
If you are bringing your children on the yacht, please make sure to bring the following.
Sunscreen
Hat and body protection from the sun
Ample water and other fluids
Sunglasses
Towels
Activities (including animal spotting books, colouring, snorkelling equipment, or binoculars)
Keep in mind that the sun rays reflecting off the ocean can cause sun burn so reapply sun protection frequently.
What animals can they see on the yacht?
A favourite past time of many children includes animal spotting. The coastline of Florida is the home of many creatures including plenty you and your family can spot from the yacht. Dolphins frequently ply in the waves, a large variety of bird species sit on the coast or glide through the sky, and the reefs are a hub of marine biodiversity. If your children are adventurous and confident swimmers, they may enjoy diving beneath the waves to explore the underwater world.
Can your children snorkel?
If you choose to take your yacht charter to visit one of Florida's reefs, your children will have the chance to jump in and see Nemo's home. The water is warm through out the year and visibility is good. This means their snorkelling experience will be pleasant experience no matter what time of the year you go. If they are prone to being cold, consider bringing a wetsuit for additional warmth.
Family of all ages enjoy the time on the yacht
An adventure on the sea is truly an experience that the whole family can enjoy. Whether it is a toddler sitting on their father's lap, an eager child ready to spot the first turtle, or a hip teenager unsure about the family time of it all. Florida's coastline and reefs can turn anyone into an excited sailor. So, contact Instyle Yachts today to organize yacht rental in Miami.