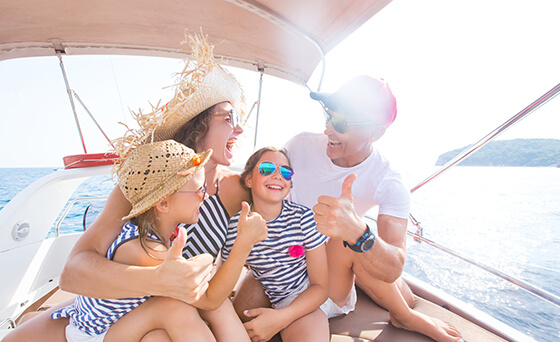 Take advantage of Miami's best weather season by venturing out on the sea and exploring the beautiful coastline.
The best weather of the year is finally here. The scorching hot summer has made way to the cooler and pleasant temperature of the winter months. So, take advantage of this perfect weather and book a yacht in Miami for a holiday or day trip. At Instyle Yachts, we have a wide selection of yachts to help you explore the amazing Florida coastline.
What are the best things to do with a private yacht?
The benefit of having a private luxury yacht is that you can personalize your itinerary to suit your needs. Since the weather above the sea is beautifully pleasant and not too hot, a winter cruise along the coast is the ideal option. You can take this opportunity to sight see Miami or the surrounding areas. Alternatively, the water, while cooler than in summer is still adequately warm for snorkelling Florida's reefs. Events, pre games, celebrations, and family holidays can also be popular choices for private yacht booking.
Choose Sight Seeing Miami
Miami is a well-known city around the world for its stunning beaches, pumping nightclubs and iconic famous houses. Sight seeing Miami is a prime choice for many visitors and tourists. However, congestion, traffic and preorganized tours can be busy and stressful. On a private yacht you can dictate how long you spend at each sight. Visit hibiscus island, star island, or the Flagler Monument for as long or little as you want. As an added benefit, you will get first class views from the comfort of your vessel.
Snorkelling Florida's Reef
If you are looking for a bit of adventure on your yachting experience, then consider adding snorkelling to your itinerary. Whether you have your own equipment or wish for In style yachts to organize it for you, grab your mask snorkel and fins and dive beneath the waves. Florida has a large expanse of reefs a short distance away from the mainland that are home to some incredible marine animals. There are incredible amounts of colorful reef fish, dolphins, sea birds and sea turtles that you can spot from your private vessel.
Organize an event on board a yacht
Bring your favorite people or family onto a private yacht to celebrate a birthday, engagement or even baby shower! The flexible nature of a private yacht charter means you can elevate any existing celebration or event while cruising Florida's coastline. Experience the beauty of a sunset in Miami, watch the city skyline transition to twinkling lights, and enjoy the sea breeze. The photographs and uniqueness of this event will make it a day worth remembering.
What yacht should you book for winter cruising?
Depending on what itinerary you choose, there are various yachts that may be best suited. For a short cruise to sight see you may choose a smaller and more nimble yacht such as the Sundancer. This speedboat provides good seating options while being easily maneuverable in the busy canals of Miami. Alternatively, if you want to book a family get away or multiple day holiday, then you may want to consider the Neptunus. The Neptunus 58' contains three large state rooms that each have a private bathroom. Call Instyle Yachts now for the best yacht rental in Miami.