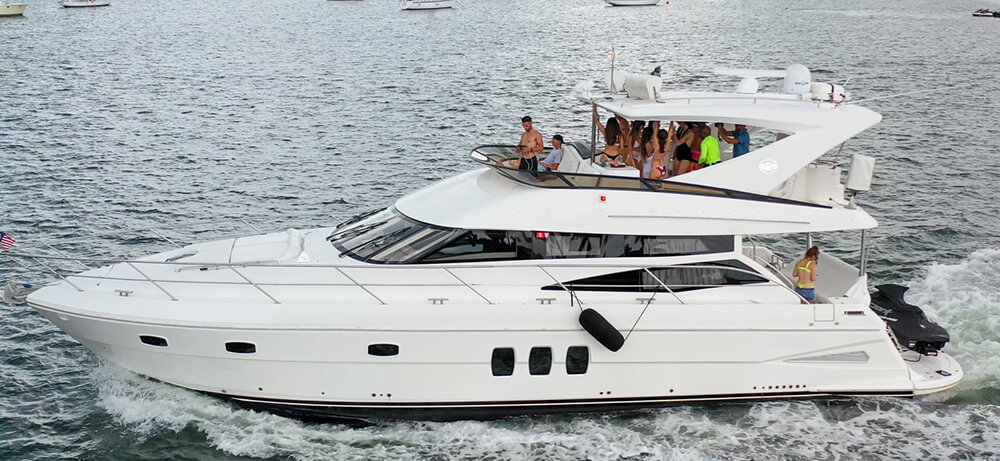 Are you looking for a once in a lifetime unforgettable experience this spring break? Then you should consider renting a yacht to cruise around Miami. The coast of Florida in Miami beach holds innumerable celebrations. It is the ultimate destination for events at which to let loose and de-stress with beautiful people. But why not step it up this spring break and opt for a luxury motor yacht to fulfill your dreams?
Instyle Yachts can create a personalized itinerary to best suit your guests' needs or suggest one of the classic tours. See the Port of Miami, Brickell Key, Fisher Island, and Flagler Monument passing by during your spectacular cruise in the warm spring air. Is there anything special you would like? Fear not, one of the motor yachts will surely fit the atmosphere and ambiance that you desire. Experience the unique perspective of downtown Miami's skyline from onboard your magnificent cruise. Picture this: drinks, sunsets, music, dancing, and unforgettable photographs while on a 103-foot yacht.
If you would rather cruise on something smaller and more maneuverable, the 36' Sundancer could be the best pick for you. With a stylish design, luxury detailing, and a comfortable lounge you can feel the hot beams of the Miami sun while cruising in style. If your group is a little larger, then you might opt for the 58' Neptunus. She has powerful engines, a salon style deck, extensive seating, and a fabulous cocktail unit. The Neptunus will certainly have you feeling like royalty on the spacious sun deck. To find the best cruise to match your desires, simply check out the book a yacht page, where you will be paired with the ideal option for you. So, what are you waiting for? Have a spring break of luxury with this unique travel experience onboard a cruising yacht.