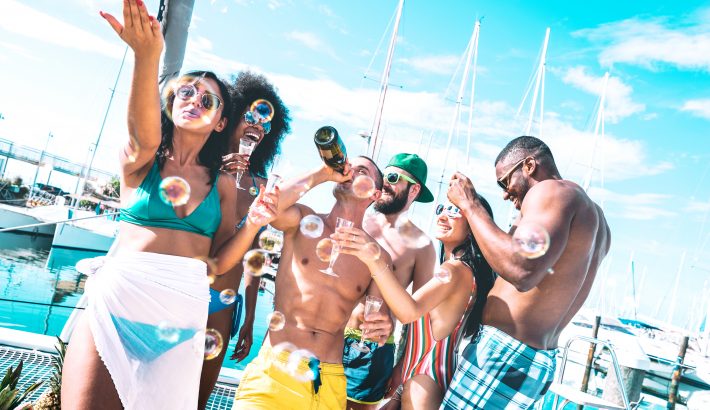 Have you been searching for an unforgettable way to celebrate this year's Superbowl? Why not organize a private yacht charter in Florida? The Super Bowl is scheduled for the 7th of February in Tampa. This means that a yacht based after party could be the perfect means to celebrate a victory or commiserate a loss. Head on over to Instyle Yachts to find what yacht is available for you and your friends to spend the evening on!
Can you watch the Superbowl on a yacht?
If you hire a yacht such as the Neptunus 58' then you will be able to watch the Superbowl in utmost elegance and comfort. The yacht features an unparalleled open, spacious layout with a concert quality sound system. It would be possible to project the game in the cabin and sit in the comfortable seating. There is a fantastic entertainment space and extensive seating for your whole party. This means that for those of your party interested in watching the game there is a perfect atmosphere. For the others, there is a whole yacht to explore, swim, or sunbathe on! The yachting experience is perfectly suited for the whole family.
Are there food facilities on the yacht?
Certain yachts are spacious enough to have ample food facilities on board. The Neptunus 58' yacht has all the comforts of a house with the elegance of a first-class hotel. If you are looking for snacks or food, there is a full-sized galley available. The galley is equipped with solid surface counter tops, a three-burner stove, a microwave oven, and a refrigerator.
Where can you go with a chartered yacht?
If you are looking for a place to celebrate the Superbowl, then your itinerary can be perfectly tailored to that. The options available to you range from cruising the city of Miami to offshore adventures. Get in touch with the friendly Instyle Yachts team to organize the exact type of day you imagine for you and your friends.
How to organize a private yacht charter?
The best way to organize a private yacht charter is from one of the qualified and certified agencies in Florida. It is important to stay away from illegally run operations to ensure your and your passengers' safety. In addition, choosing a yacht can be a confusing process. That is why the Instyle Yachts team are there to help you every step of the way and are considered one of the premium boat rentals in Miami Florida. So do not hesitate and book your yacht today before they are all snatched up for the 2021 Superbowl Party!