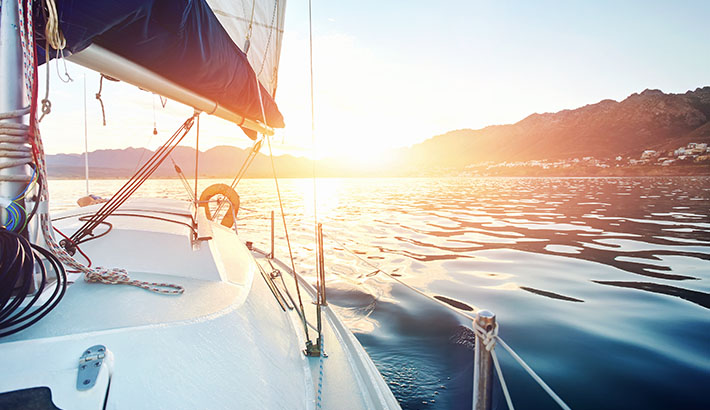 There is nothing better than spending the warm sunny days onboard a yacht. However, in recent years we have learned the potentially negative effects of sun exposure. In this post we will cover the top ways on how to stay safe in the sun. All the while, having fun! When you book a yacht in Miami with us, we take care of every little detail. This way, you can just sit back and relax to enjoy your trip. On the other hand, sun safety tips are handy in everyday life. Here are our top five tips.
Sunscreen is your best friend
Sunscreen is the primary line of defense against premature aging and potentially harmful UV radiation. A full spectrum high SPF (30 or more) is the ideal sunscreen to use when going on a boat. Since there is a chance of getting splashed or jumping in the water, we would recommend investing in a physically protective sunscreen. In comparison to chemically based sunscreen, physical blocking sunscreens rely on ingredients such as zinc to completely stop the UV radiation from reaching your skin. Chemical sunscreen on the other hand, simply changes the outcome of the impact on your skin. While chemical sunscreen has been the norm for the past few years, it has been linked with coral reef degradation. For this reason, we would encourage you to seek out reef safe sunscreen created from non nano particles that protect you and our ocean.
Hats and Physical barriers
While sunscreen is our go to solution to protecting ourselves from the sun, physical barriers are even better. Grab a hat, cap, and a light linen long sleeve shirt to bring on board with you. Once you're done swimming, simply throw the cover over yourself for a stylish yet protective layer. Even the best sunscreen will not be as efficient in keeping our solar rays as a shirt or hat. Be mindful that when you are on the boat, the sun's rays reflect from the surface of the water. This means, even with a hat, you must combine your sun protection methods with sunscreen.
Not only are polarized sunglasses the best option for eye protection from the sharp glare but they also help you see better on the water. Polarized sunglasses eliminate some of the reflected light that shines from the surface of the sea. This means you will be able to look through the water better and spot coral reefs, turtles, and other marine animals easier! A good pair of polarized sunglasses, and even a back up, are a must have when on a yacht.
Lastly, but certainly not least, to stay sun safe onboard a boat rental with crew, is to drink enough water. Keep a water bottle or some electrolyte drinks nearby. Swimming and spending the day in the sun will typically exhaust anyone who is not used to it. Drinking water will avoid dehydration, headaches, and will keep your body functioning ideally. If you have any additional questions about sun safety, do not hesitate to contact the friendly Instyle Yachts team.