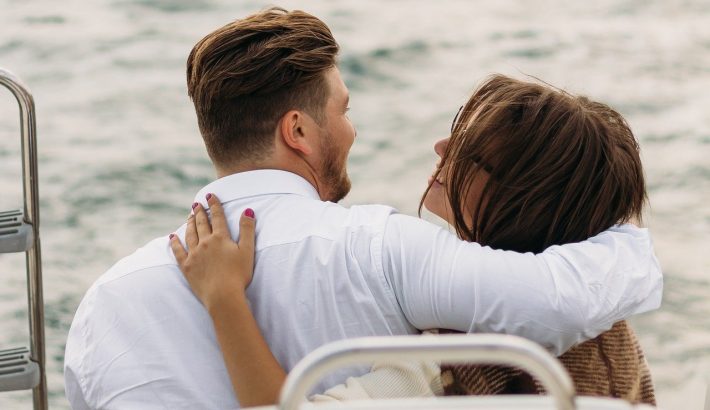 Are you looking for a romantic get away with your significant other? Because Instyle Yachts can provide you with a luxurious and romantic date night charter. Whether you wish to organize a sunset cruise, dinner, or heading to Miami nightlife we can plan it for you. Book a yacht in Miami to show your love and celebrate your partner onboard a private vessel.
What can you do on a luxury yacht?
Instyle Yachts know the importance of romance and love. That is why we have a special date night charter that you can book for you and your other half. We have a wide variety of date night options you can do to match your desires, needs, and interests. Check out just some of the examples of what couples have booked for date nights.
- Sunset and drinks date night charter
This charter departs the port of Miami when the sun is still in the sky and takes the love birds on a scenic tour of Miami. With the Miami skyline slowly turning dark, you can share a drink while watching the sun sink beneath the horizon. The romantic atmosphere, calming music, and luxurious backdrop is the ultimate anniversary or special occasion date.
Take your better half onboard a luxury yacht to eat an intimate dinner onboard one of the luxurious Instyle Yachts vessels. Certain vessels contain a full galley, while all others can be catered to your needs. Speak with the crew and team at Instyle Yachts to share your dream dinner menu and food sensitivities. This way, you can stare into your loved one's eyes while eating a delicious dinner in a private comfortable seat on the sea.
- Star gazing and meteor showers
Florida is world known for clear skies and beautiful views of meteor showers and the stunning night sky. Check out one of our other blog posts where we share the largest and most beautiful meteor showers in the northern hemisphere. Plan your date night to coincide with these sky shows. Nothing can be quite as romantic as watching the sky onboard a private yacht out on the sea. Not only is the isolation and quiet intimate, but the lack of light pollution provides the most extraordinary light show.
- Clubs and Miami nightlife
Miami nightlife is known worldwide for its incredible party scene. You can bring your date to the club in style on South Beach by cruising in on a luxury yacht. The South Beach club scene has a strip of mega clubs that attracts the young and beautiful every night of the week.
Would you like a personalized date itinerary?
If you have any special requests or a personalized date, then simply talk to the helpful team at Instyle Yachts. They can help you organize a yacht rental in Miami and create the most romantic, personal, and captivating date.