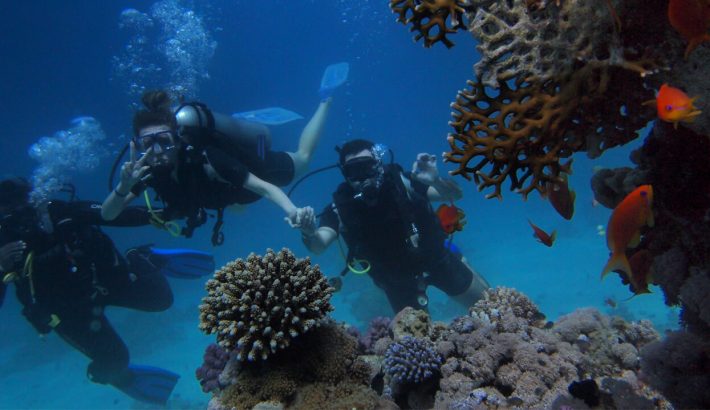 Have you always wanted to see the beauty of coral reefs in first person? You must have seen the many fascinating documentaries that feature the rainforests of the sea. However, did you ever stop to think that you can explore the underwater beauty for yourself? Book a yacht in Miami to head to Florida's coral reefs. This personalized coral reef cruise will bring you the secrets of the underwater world in ultimate luxury.
What Coral Reefs can you visit from Miami?
Miami and the south of Florida is renowned for its diverse and beautiful coral reef. The Florida Keys are particularly well known for the longest fringing reefs in the northern hemisphere and incredible marine biodiversity. There are several marine parks in the area that protect these vital ecosystems and habitats. This has made Miami one of the top destinations for avid snorkelers or scuba divers. However, unlike with an organized trip, a private yacht charter provides you with complete control of the itinerary. You will be able to plan a day, or overnight trip from Miami to your favorite reefs. If you are uncertain about what reef you would like to visit, check with the Instyle Yachts team for the current best recommendations.
What do you need for a coral reef cruise?
If you are planning to head out onto the sea for a coral reef cruise there are several things you need to pack. To ensure your and the environments safety, here are our recommendations.
– Reef Safe Sunscreen
– Long sleeve shirts and hats
– Sunglasses
– Towels and swimming essentials
– Mask, Snorkel, and Fins
– A rash guard or wetsuit (depending on the time of year)
– Underwater camera
While the air and water temperature are pleasant all year round. During the cooler months, thermal protection is advisable for scuba diving or snorkeling. Water conducts heat away from your body at a rate 40 times faster than air. Therefore, having a wetsuit will keep you comfortable in the water. Even in the summer, it is a good idea to keep your skin covered to minimize the amount of chemicals entering the water from sunscreen. In addition, keeping your skin covered will better protect it from harmful UV rays. For more specifics, please check with the Instyle Yachts crew and your personal itinerary.
What can you do on a coral reef cruise?
The primary purpose of a coral reef cruise is to explore this stunning underwater ecosystem. While the rainforests have gained the name of "lungs of the earth", the coral reefs are the true champions of biodiversity and ecological value. Taking a moment to jump beneath the waves will show you this incredible ecosystem. With some fish identification slates you will be able to spot various fish species and other marine animals. Dolphins, turtles, and seabirds are all frequent stars on coral reef cruises. If you want to learn more about the underwater world, you can also consider organizing a scuba diving course or discover scuba dive. So, get your yacht rental in Miami for a personalized coral reef cruise.