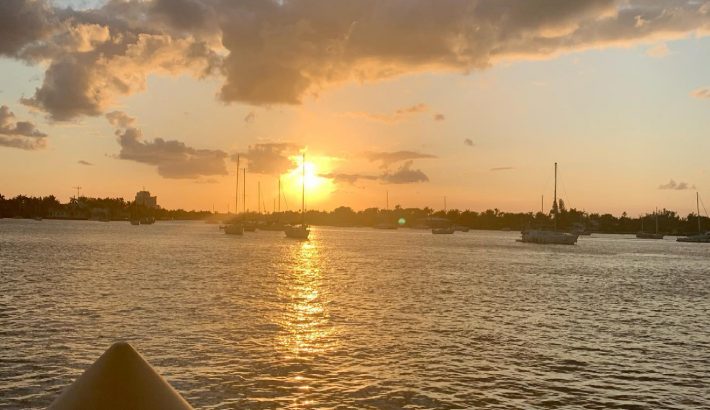 It is undisputed that the best way to see a sunset is onboard a boat. The colors of the sun reflecting from the surface of the waters cast a spectrum of orange and reds across the sky. An oceanside sunset is a sight to behold, and cruising on a private yacht is a way to see it. If you want to experience a romantic luxury sunset cruise, then you can book with Instyle yachts. Let this private yacht charter in Miami schedule an unforgettable and beautiful sunset cruise. It is the best Miami boat rental with crew available in southern Florida.
Where can you do a sunset cruise?
The sun sets in the west, so if you travel out to see by boat you will be able to see the majestic array of colors setting behind the Miami skyline. With Instyle Yachts you can rent out a private yacht charter and enjoy an evening cruise. A sunset cruise can take you along the coast of Miami, to some of the most picturesque houses on the star studded islands, or the inner city canals. A sunset cruise can be paired with delicious champagne, little snacks, or dinner then it can be organized. Based on what vessel you choose, there is an abundance of options for your evening. Your sunset cruise can be part of a larger package, or a couple hour affair on a designated day.
What yacht can you take for a sunset cruise?
If you are looking for the ultimate romantic evening sunset trips, then we would recommend one of our smaller cruising yachts. These yachts such as the Maiora are large enough for a comfortable ride, space enough to stretch out, and enjoy your sunset degustation. If you rather choose a larger yacht, we recommend the Neptunus 58′. This yacht can accommodate a larger party and provides plenty of areas to entertain. Individuals may choose to sit inside the elegantly finished living room or on the comfortable outdoor seating. In addition, this yacht has a full galley and fridges to keep your food and drink fresh and cool. But that is not all, if you are prone to seasickness this elegant vessel will make you quickly forget you are on a boat.
What services can you expect on a sunset cruise with Instyle Yachts?
Your sunset cruise can feature all the additives that you desire. With Instyle Yachts, the crew can ensure your sunset cruise has the snacks, drinks, and music you wish. All the yachts have state of the art sound systems so you can connect your own music through Bluetooth. In addition, InStyle Yachts offers a full catering service if you require and can fulfil your dietary requirements. The reason that Instyle Yachts is one of the best Miami yacht charter company is because of their unparalleled customer service. The team will be with you every step of the way. So, pick up the phone or send an email with your proposed dates, and let them craft your cruise for you.