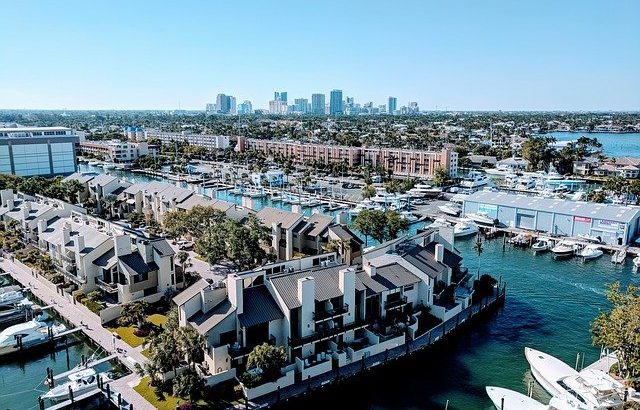 One of the best things about having your very own charter yacht, is being able to cruise freely. Hiring a Miami Charter Boat gives you the ultimate freedom and choice of where to go. You are no longer reliant on tours or the decisions of others. A private charter yacht means you are the captain, and your holiday is yours alone.
What can you see in Fort Lauderdale?
Fort Lauderdale is a city located 40 miles north of Miami. You can hire a yacht in Miami, and cruise the coastline to visit Fort Lauderdale. This town holds many areas of interest including abundant hikes, trails, and historic buildings. You may choose to cruise to the Stranahan House that is the oldest building in Fort Lauderdale. This waterfront building was originally constructed as a trading post. Along the water, there are many other historic buildings that history buffs may appreciate. Even for those not versed in the happenings of the past, the houses and scenery provide a lovely backdrop for a cruise.
The Fort Lauderdale Harbor is a busy port filled with vessels heading out on recreational journeys in the area. With the mild weather and calm seas, the inhabitants are big fans of boating. More than 3.5 million passengers begin their Cruise journey from Fort Lauderdale and the town is bustling with commotion. With your own private yacht, you will be able to maneuver around the busy waterways to make your own itinerary.
The coastline of Florida is a fascinating coast to explore. There are plenty of lighthouses, famous landmarks, and beautiful nature to see. Depending on the type of trip, you will be able to fully personalize your day.
What yacht can you charter?
Depending on how long you wish to cruise Fort Lauderdale, you may want to consider various members of the Instyle Yachts Fleet. If you are unsure, the friendly team at Instyle Yachts are happy to help. The yachts available include smaller daytime cruising motorboats to impressive overnight luxury yachts. For example, check out the Neptunus 58'. This majestic feat of Norwegian engineering is a first-class vessel in safety and style. The finishes inside are reminiscent of a five-star hotel with spacious cabins and comfortable seating. If you are looking for an overnight trip, then such a yacht would be ideal.
Instyle Yachts has made it easy as one of the best yacht rentals in Florida. We have a first-class team that can help you navigate the booking and organizing of your holiday. Reach out online or by phone to speak to a helpful member of the staff. They can help you find what yacht suits your trip and answer any questions you may have. So, what are you waiting for? Get in touch now and organize an unforgettable perspective and view of Fort Lauderdale.