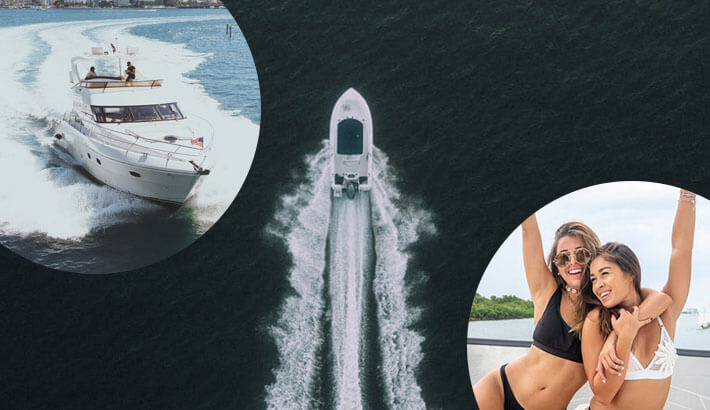 Elevate your Superbowl experience with a classy pregame onboard a private yacht charter in Miami
You may have heard of tail gating, but what about yacht cruising? Elevate this years Superbowl experience by having your pregame on board a private yacht charter in Miami. The private yacht allows you to personalize your experience and celebrate in style. Book a yacht in Miami with your friends to experience the excitement before a Superbowl while listening to music and jumping into the azure water. In the end, even if your team does not win the Superbowl, you would have won the day.
Change your pregame ritual
After all these years, have you grown tired of your existing pre Superbowl rituals? Are you looking for something new? Exciting? Maybe a way to change your luck for the day? Well here at Instyle Yachts, we recommend changing your perspective on the situation with a private yacht charter. With this flexible and luxury option you can entertain your guests, eat a delicious selection of meals, and accommodate your favourite people.
Where can you go with a private yacht charter?
Instyle Yachts has plenty of customers who personalise their boating experience to match their dream day. Maybe you want to sight see Miami before watching this iconic game? In this case, you can organize to visit the Flagler monument, Star and Hibiscus islands. Alternatively, you may wish to jump into the clear Miami water to refresh and rejuvenate before the game. In this case, the whole coast is open to you on this adventure. If you wish to travel up and down the coast and sight, see, potentially even start watching the game on board, that is also possible.
Can you watch the Superbowl onboard a private yacht?
As mentioned above, the benefit of a private luxury yacht is that you are the captain. This means, if you want, the Instyle Yachts team will be able to organize for you to watch the game onboard the luxury yachts. Some of the larger models, such as the Neptunus 58' have surround sound entertainment and screens for you to watch the game. So, bring your wings, your friends and cross your fingers for a Superbowl victory. If you have any specific questions, please contact the helpful Instyle Yachts team.
Pregame onboard a luxury yacht
So, what are you waiting for? Give Instyle Yachts rental Miami a call, to book your yacht for the Superbowl today. You do not want to miss this unique opportunity or to have the first choice of vessels. Enjoy the Miami skyline from onboard a luxury yacht. If you want to have a look at the Yacht options, click here for the full selection of the fleet.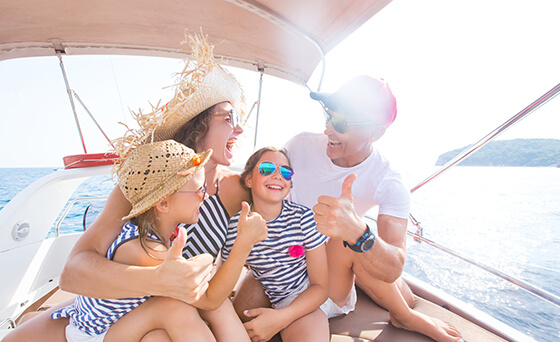 Take advantage of Miami's best weather season by venturing out on the sea and exploring the beautiful coastline.
The best weather of the year is finally here. The scorching hot summer has made way to the cooler and pleasant temperature of the winter months. So, take advantage of this perfect weather and book a yacht in Miami for a holiday or day trip. At Instyle Yachts, we have a wide selection of yachts to help you explore the amazing Florida coastline.
What are the best things to do with a private yacht?
The benefit of having a private luxury yacht is that you can personalize your itinerary to suit your needs. Since the weather above the sea is beautifully pleasant and not too hot, a winter cruise along the coast is the ideal option. You can take this opportunity to sight see Miami or the surrounding areas. Alternatively, the water, while cooler than in summer is still adequately warm for snorkelling Florida's reefs. Events, pre games, celebrations, and family holidays can also be popular choices for private yacht booking.
Choose Sight Seeing Miami
Miami is a well-known city around the world for its stunning beaches, pumping nightclubs and iconic famous houses. Sight seeing Miami is a prime choice for many visitors and tourists. However, congestion, traffic and preorganized tours can be busy and stressful. On a private yacht you can dictate how long you spend at each sight. Visit hibiscus island, star island, or the Flagler Monument for as long or little as you want. As an added benefit, you will get first class views from the comfort of your vessel.
Snorkelling Florida's Reef
If you are looking for a bit of adventure on your yachting experience, then consider adding snorkelling to your itinerary. Whether you have your own equipment or wish for In style yachts to organize it for you, grab your mask snorkel and fins and dive beneath the waves. Florida has a large expanse of reefs a short distance away from the mainland that are home to some incredible marine animals. There are incredible amounts of colorful reef fish, dolphins, sea birds and sea turtles that you can spot from your private vessel.
Organize an event on board a yacht
Bring your favorite people or family onto a private yacht to celebrate a birthday, engagement or even baby shower! The flexible nature of a private yacht charter means you can elevate any existing celebration or event while cruising Florida's coastline. Experience the beauty of a sunset in Miami, watch the city skyline transition to twinkling lights, and enjoy the sea breeze. The photographs and uniqueness of this event will make it a day worth remembering.
What yacht should you book for winter cruising?
Depending on what itinerary you choose, there are various yachts that may be best suited. For a short cruise to sight see you may choose a smaller and more nimble yacht such as the Sundancer. This speedboat provides good seating options while being easily maneuverable in the busy canals of Miami. Alternatively, if you want to book a family get away or multiple day holiday, then you may want to consider the Neptunus. The Neptunus 58' contains three large state rooms that each have a private bathroom. Call Instyle Yachts now for the best yacht rental in Miami.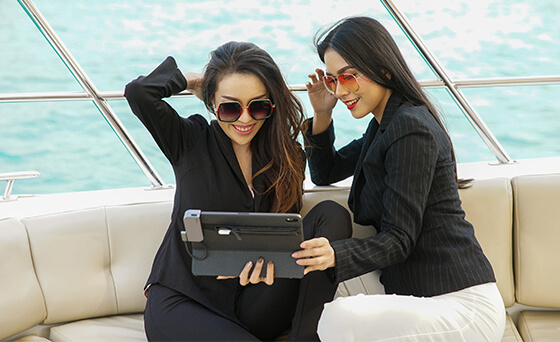 Are you looking for a new backdrop to your business meeting? Maybe you are hoping to impress a client, organize a team building day, or celebrate a momentous occasion in your company. So why not book a yacht in Miami for your next event? We can guarantee a stress-free booking and planning process allowing you and your team to focus on what matters. There are plenty of reasons to move your meetings from a board room and meeting on a yacht is perfect solution.
Where can you go with Miami Yachts?
The best part of booking your own private yacht, is that you are fully in charge of the day's itinerary. Whether you want to organize a quiet and private business meeting following by a dinner and cruise, or you opt for a more excitement filled schedule. Talk to the helpful Instyle Yachts team to see what options are best suited for you. Depending on the size of party you wish to accommodate, the team will also be able to point you towards the appropriate yacht.
What does renting a private yacht involve?
After choosing your ideal yacht you can coordinate with the Instyle Yachts team to select your itinerary and available date. Since we are approaching the best weather in Florida, yacht availability may go down. For this reason, it is a good idea to book your yacht well in advance. Once you have selected your itinerary then you may need to decide what food, drinks and other necessities you wish to bring on board. If you prefer, the Instyle Yachts team can organize catering or a chef to provide an exquisite meal to your guests.
What is the best suited yacht?
The Instyle Yachts fleet hold a diverse and varied number of vessels. They all have premium safety ratings and gorgeous, elegant finishes. As a luxury yacht fleet, you can expect everything from a speedy Sundancer to carry you to your destination or the spacious Neptunus 58'. The Neptunus 58' is the pinnacle of luxury and includes several comfortable seating areas. It also has state of art surround sound system, a full galley and fridges to keep snacks and drinks cool.
What are some possible ccc
If you are eager to book your yacht rental in Miami, then you may be wondering what options there are for day or evening trips. One of the most popular options include some relaxing on the coast and doing sightseeing of Miami city. This is a great itinerary if you have visitors coming to Florida from other states or countries. Another option is the sunset cruise combined with a dinner on the canals. If there is anything you would like to organize, do not hesitate to contact Instyle Yachts.