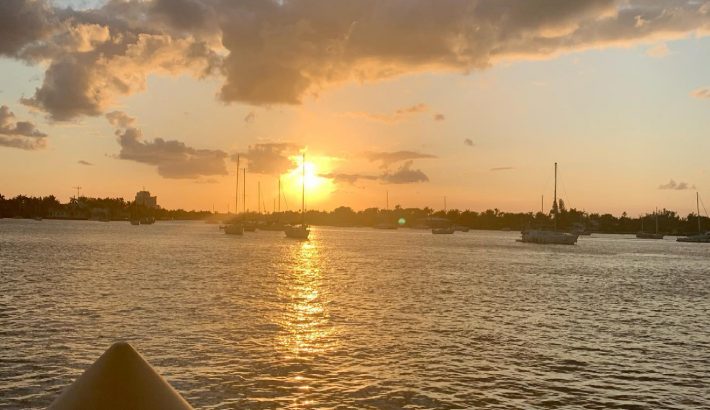 It is undisputed that the best way to see a sunset is onboard a boat. The colors of the sun reflecting from the surface of the waters cast a spectrum of orange and reds across the sky. An oceanside sunset is a sight to behold, and cruising on a private yacht is a way to see it. If you want to experience a romantic luxury sunset cruise, then you can book with Instyle yachts. Let this private yacht charter in Miami schedule an unforgettable and beautiful sunset cruise. It is the best Miami boat rental with crew available in southern Florida.
Where can you do a sunset cruise?
The sun sets in the west, so if you travel out to see by boat you will be able to see the majestic array of colors setting behind the Miami skyline. With Instyle Yachts you can rent out a private yacht charter and enjoy an evening cruise. A sunset cruise can take you along the coast of Miami, to some of the most picturesque houses on the star studded islands, or the inner city canals. A sunset cruise can be paired with delicious champagne, little snacks, or dinner then it can be organized. Based on what vessel you choose, there is an abundance of options for your evening. Your sunset cruise can be part of a larger package, or a couple hour affair on a designated day.
What yacht can you take for a sunset cruise?
If you are looking for the ultimate romantic evening sunset trips, then we would recommend one of our smaller cruising yachts. These yachts such as the Maiora are large enough for a comfortable ride, space enough to stretch out, and enjoy your sunset degustation. If you rather choose a larger yacht, we recommend the Neptunus 58′. This yacht can accommodate a larger party and provides plenty of areas to entertain. Individuals may choose to sit inside the elegantly finished living room or on the comfortable outdoor seating. In addition, this yacht has a full galley and fridges to keep your food and drink fresh and cool. But that is not all, if you are prone to seasickness this elegant vessel will make you quickly forget you are on a boat.
What services can you expect on a sunset cruise with Instyle Yachts?
Your sunset cruise can feature all the additives that you desire. With Instyle Yachts, the crew can ensure your sunset cruise has the snacks, drinks, and music you wish. All the yachts have state of the art sound systems so you can connect your own music through Bluetooth. In addition, InStyle Yachts offers a full catering service if you require and can fulfil your dietary requirements. The reason that Instyle Yachts is one of the best Miami yacht charter company is because of their unparalleled customer service. The team will be with you every step of the way. So, pick up the phone or send an email with your proposed dates, and let them craft your cruise for you.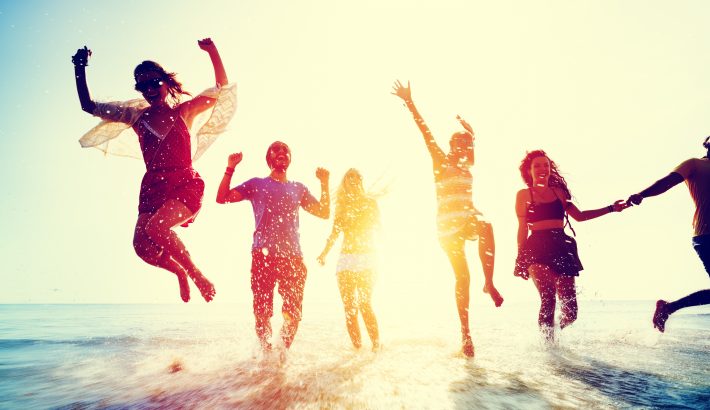 Now that the winter is behind is, it is time for celebrations to begin. Spring Break 2021 is almost upon us. What are you planning to do this Spring Break? Warm weather, bikinis, cocktails, and azure waters should certainly be on your list. However, if you are looking for a more luxurious option, then look no further than Instyle Yachts. Get yourself a Miami boat rental with crew. This private yacht charter company will organize the spring break of your dreams. Rent out a vessel for you and your crew for an unforgettable spring break 2021.
Why get a private yacht charter?
The main benefit of a private yacht charter is the ultimate flexibility. This means you can plan your itinerary exactly as you want it. Depending on the size of your group and time you have, Instyle Yachts can personalize your trip. Everything is possible! Whether you wish to cruise around the thriving canals of Miami Florida or go explore the remote reefs. Instyle Yachts have a yacht in its fleet to suit you. All you must do is get on the phone, or put in an online inquiry, to the Instyle Yachts team for personalized advice for your dream.
Where can you go with Instyle Yachts?
Instyle Yachts have a large range of possible itinerary options for you. If you are looking for some inspiration, check out our blog posts about some of the most popular destinations. Adventurous individuals choose to cruise down to the Florida Keys, explore the coral reefs, or plan a weeklong holiday. Others looking for luxury and tourism visit the star-studded islands of Hibiscus Island and Star Island. Meanwhile others choose to sightsee famous landmarks, lighthouses, and architectural designs. Since you have a private yacht charter, you are the decision maker on where you go. 
What yacht can you take to spring break 2021?
The fleet at Instyle Yachts is as varied as your preferences. We have anything from small 36′ Sundancer cruise crafts that ride the waves and provide adrenalin seekers a rush on the water. All the way to luxurious mega yachts such as the Neptunus 58′. This pinnacle of ocean engineering is perfectly suited for entertaining and overnight trips. There are three spacious staterooms along with plenty of seating area. You can sit on the comfortable cushions on the back deck or lounge on the nose of the vessel. Alternatively, the luxurious inside has 360-degree views available of the sea.
Why you need a private yacht for spring break 2021?
Make this spring break unforgettable with your favorite people on this unique holiday treat. Book yourself a yacht and an itinerary that will give you the most of your celebrations. The friendly team will help you every step of the way for a seamless and easy break. Leave the technical sides and organization to us and get ready for a party you will never forget. Say goodbye to land and say hello to the ocean-going life. The ultimate spring break escape for 2021 with the best Miami yacht charter company.
The Miami river runs out of the everglades and through the city of Miami. It is the foundation of this thriving city and has many fantastic spots to stop and explore. If you want to get to know Miami from another perspective, then you should consider this Miami boat rental with crew. InStyle Yachts can plan your trip to feature the most iconic parts of Miami river, while you sit back and relax onboard a luxurious yacht.
The Miami river is a river in Florida that drains from the Everglades and through Downtown Miami. It is a 5.5-mile-long river that travels from Miami Canal to Biscayne Bay. Prior to the urbanization of the area, Miami river was a natural river inhabited by the Tequesta Indians. Unfortunately, since then, it was dredged and polluted throughout its flow. Now, the river is at the Port of Miami that attracts plenty of boat and tourism traffic. Through the increase of popularity, the rivers health and pollution condition has improved. As a result, many marine animals can be seen in the area.
What animals live in the Miami River?
Both birds, reptiles, and fish are abundant in the Miami river in Florida. Some of the most spotted creatures include the pacific chorus frog, western toad, green frog, north-western salamander, north-western garter snake and more. In terms of mammals, the banks occasionally have mule deer, and more scampering in the undergrowth. Of course, the biodiversity increases as you travel further upstream. If you are interested in paddling the Miami River Canal, then you may see more animal life. 
What can you see on the Miami River?
The Miami River offers an abundance of river front views for tourists wanting to explore Downtown Miami. Unlike seeing Miami from a car or by foot, traveling by boat gives you a first-class view. From the water, you can see the famous Miami Riverwalk with all its stores and fantastic architecture. You can travel the shortest working river in the world, and you can check out all the unique buildings that have sprung up in Florida. For example, the 6th Street Bridge, 5th street bridge, or the Scottish Rite Temple.
Why rent a yacht to see Miami River?
A yacht allows you to travel and see the Miami River in a way you want. The Miami River canal is a beautiful spot to explore on your own adventure on a private yacht. Instyle Yachts has a range of yachts that can take you on this south Florida adventure. Having your own yacht gives you the flexibility and privacy of a first-class service. With Instyle Yachts, you will also have a knowledgeable crew who can help become your partial guides on this adventure. So, what are you waiting before booking with this Miami yacht charter company?