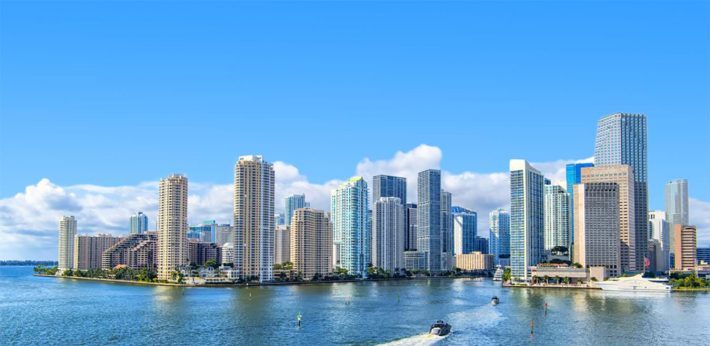 Florida is known as the sunshine state, as we are lucky to have an average of 237 days in the year. In terms of climate, it is the perfect place in the world to adventure on a boat. Especially in the months from April to November, when the weather is warm and calm. If you have ever wanted to book a yacht in Miami, this post will tell you all about the best time of year.
When is the best time of year to visit Miami?
The best time to visit Miami is from April to November. In these summer months, the city experiences its dry season. The days are sunny, and the water is warm. This makes it the optimal time to visit this coastal town and take advantage of Miami's beaches. Unfortunately, the months from June until August are extremely popular with holiday makers. For this reason, you may experience higher hotel prices and larger crowds in the restaurants and beaches. If you are looking to party with many people, then maybe summer is ideal for you.
How warm does the water get in Miami?
The water around Miami Beach is warm enough for swimming all year around. The warmest point in the year is from July until mid-august. During the summer months, the water temperature averages 86 degrees Fahrenheit. This water temperature is perfect for swimming without a wetsuit. In the wintertime, the water temperature drops to around 71 degrees Fahrenheit. While this is still warm enough, a light wetsuit may be a good idea if you wish to snorkel.
Worst time to visit Miami?
The worst time to visit Florida is from late summer until November. While the summer temperatures are warm and inviting, there are chances of hurricanes. Storms form frequently inside the season window that stretches from June First until the last day of November. Unfortunately like most weather, hurricanes can be unexpected. The most likely time for Miami to be hit is during the peak of Cape Verde. This is around the month of Augusts and September.
Which yacht should you charter in Miami?
Considering how many yachts Instyle Yachts have in their fleet, it may be confusing to choose the best one. For this reason, we have a helpful Instyle Yachts team ready to help you choose. One beautiful vessel to consider is the 58' Neptunus. This incredible feat of engineering is luxury on the water. With spacious and elegant design, it is ideal for a weeklong charter for your whole family. It has three generous staterooms and ample space indoors and outdoors. Contact Instyle Yachts today for the best yacht rental in Miami.