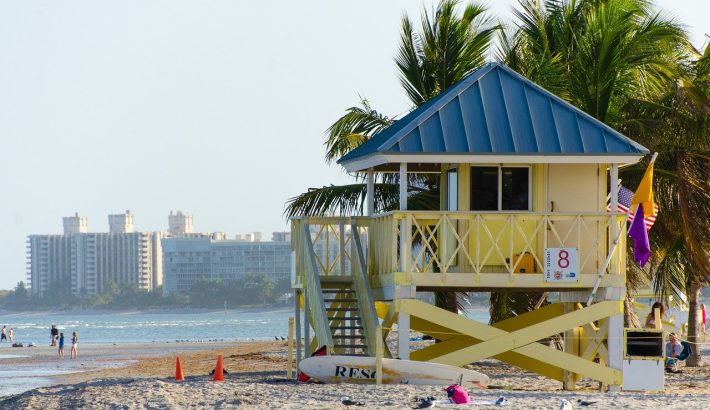 A trip to South Florida would not be complete without a stop at Biscayne Key. In addition, the best way to see this iconic spot is from the water. For this reason, you should consider getting a Miami boat rental with crew for the ultimate exploration of Biscayne Key. Give yourself the chance to have a flexible itinerary, stunning views, and a luxurious vehicle.
What can you do in Biscayne Key?
Key Biscayne in Florida offers all the attractions of the sunshine state on this tiny portion of land. There are beautiful beaches where you can sunbathe between beautiful natural parks. As you would be arriving by boat, you can moor on any of these beaches and enjoy the azure water and stunning sites. If you do wish to visit the land you can go explore Crandon Park on the North or Bill Baggs Cape Florida State park in the south. One of the highlights of the area include fringing the coastal coral reef where you can dive in and snorkel. But that is not all, it is the only recognized underwater archaeological trail in the United States.
Why get a private charter yacht?
If you want to travel anywhere in crowded groups and busy roads, then do not consider a yacht. However, if you are looking for a luxurious getaway with a spacious and comfortable seating, flexible schedule, and an unforgettable experience from start to finish, then get a private charter yacht. A private charter yacht gives you all the luxury and flexibility you crave along with privacy and comfort. Instyle Yachts in particular has a wide range of yachts in their fleet that you can choose from. Whether you are looking for an ideal day trip or a weekend trip, there is a yacht for you.
What yacht should you choose to go to Key Biscayne?
Key Biscayne is located a short drive away from Miami therefore can be organized as a short-day trip. For daytrips on a yacht, you may want to choose a smaller vessel. Still, for the couple hour trip you want a yacht that is large enough to be comfortable. The 55″ Sea Ray Sedan could be a perfect option for you. There is enough for sun in the fun and comfort for the full family. It is the perfect mixture of luxury and sailing comfort on the ocean. It is a beautiful combination of sleek lines, sun protection, and smell of fresh ocean air. This vessel can take you for the perfect daytrip to Key Biscayne. If you want to stay longer, then a yacht such as the Neptunus 58′ is for you. This yacht of unparalleled excellence has multiple sleeping rooms, a full galley and plenty of entertaining space. You can spend your time in privacy or celebrating with your friends and family. It is up to you.
Why choose Instyle Yachts?
Instyle Yachts are the Miami yacht charter company that takes care of their clients. From the moment you click on the " interested" button, until you step off the boat, you are taken care of. The friendly team is there to help you with all your needs. They can help you plan your itinerary, your meals, your crew, and the trip of a lifetime. They know all the ins and outs of Biscayne Key, so trust the locals for a fantastic cruise.