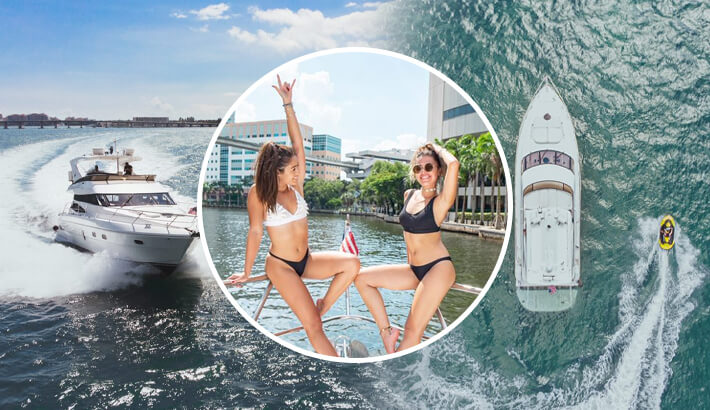 Miami to Fort Lauderdale is probably a drive you have done several times. While occasionally you can speed down the highway with little interruptions, it's increasingly common to have to bank on longer travel times. Traffic, unforeseen accidents, or bad weather can all contribute to a frustrating car ride. That is why we suggest to book a yacht in Miami and cruise to Fort Lauderdale. This way, you get to experience the coastline like never before and enjoy the trip as well as the destination.
How long does it take to cruise from Miami to Fort Lauderdale?
The drive can be around 42 minutes through the crowded streets of Miami, in comparison the cruise is slightly longer but more picturesque. Depending on the weather on the given day, and the vessel you have chosen, it may take anywhere between 1 to 2 hours. This of course also depends if you wish to stop along the way, want to cruise calmy, or speed ahead. Have a look at our large array of vessels to see what yacht would suit your needs best.
Why would you take the boat from Miami to Fort Lauderdale?
The coast of Florida is absolutely stunning, and seeing it from onboard a luxury yacht is the best vantage point. With your whole family, you can make the trip from Miami to Fort Lauderdale a whole day adventure. Take your time to enjoy the journey rather than rushing towards the destination. A boat cruise allows your family to soak up the sun rays, spot for marine animals, and watch the iconic Miami skyline rush past.
Can you swim from the Yacht in Miami?
The water around Miami is typically a warm and comfortable temperature the whole year. This makes Miami a favorite destination for swimmers and beach goers alike. When you are on a private vessel, the Atlantic Ocean is available at your leisure. Organize a few spots to have a break and hop into the refreshing water. This is part of the benefit of chartering your own private yacht. You can dictate how long you spend in each location and what you want your day to look like.
What yacht is best suited to cruise from Miami to Fort Lauderdale?
There is a large selection of yachts that Instyle Yachts can offer with crew for your day or multi day trip. Depending on how many people you wish to bring, or how long you would like to cruise, the Instyle Yachts team will be able to best recommend a vessel to fit your needs. The Neptunus 58′ is one of our prized yachts that features several overnight double staterooms, ensuite bathrooms, ample entertaining space, and a surround sound system. This way you and the whole family can relax, eat food from the fully equipped galley, and lounge on the several deck spaces on the front and back of the yacht. Boat rental with crew is the new, and luxury way to cruise Florida's coast.