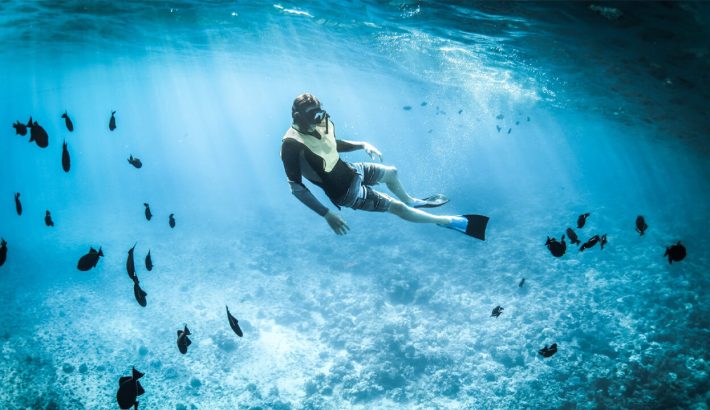 Have you always wanted to dive beneath the waves like Ariel? Or explore Florida's many reefs and it is thriving inhabitants? The best way to get out to the reef and snorkel, is to book a yacht in Miami. Unlike tourism tours that dictate your itinerary for the day, a private yacht lets you travel at your own ease. Florida has some of the world's most famous reefs. So, what are you waiting for? Book your yacht and dive into the water soon!
Where can you snorkel in Miami?
While snorkeling right in Miami will not provide you with the most biodiverse view. There are several reefs close to Miami. Miami itself is famous for miles of pristine and sandy beaches. Just offshore, the clear Atlantic Ocean has the third largest barrier reef in the world. This reef is the only one in North America and spans 220 miles from Miami to the Dry Tortugas past Key west. The Florida Straits is a unique ecosystem that is protected by the National Oceanic Atmospheric Administration's National Florida Keys Marine Sanctuary Program. Therefore, snorkeling is one of the top tourist activities in Miami. It is easy and an incredible way to discover the coral reef, mangrove islands, and thriving marine life. You can expect to see colorful coral reefs, reef fish, dolphins, and a variety of other sea creatures.
Best Places to Snorkel in Miami?
If you have decided to go snorkeling, check out some of these most popular and beautiful areas.
What do you need to snorkel?

Snorkeling requires no official certification. However, it is advisable that you are a confident swimmer. Then all you need is mask, snorkel and fins and a way to get to the pristine reefs. Once at the reef, you can hop in and take in the world around. To help protect the reef for future generations please consider your impact on the coral. For this reason, use reef friendly sunscreen, refrain from touching any coral, and do not collect any pieces to take home with you. As they say, leave only bubbles.
Why take a private yacht to snorkel?
The thing about snorkeling is that everyone wants to snorkel in a different area and for a different duration of time. This means, with the flexibility of your own private yacht, you can dictate your day. You are not dependent on the tour operator and can visit pristine reefs. Unlike tourism crews that frequent the same spots, you can venture out and explore the coral reefs. Depending on your yacht size that you choose from the Instyle Yachts fleet, you can travel all the way down the Florida Keys. Let the helpful Instyle Yachts team aid you in picking your vessel and your itinerary. So, click here to begin organizing your yacht rental in Miami.