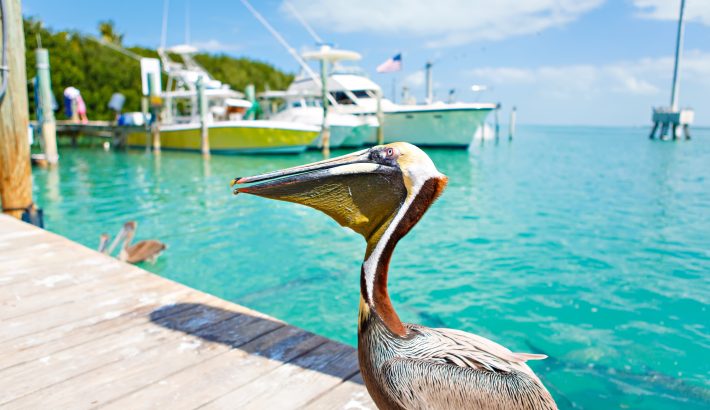 Have you always wanted to visit the stunning islands south of Miami? Islamorada is an incorporated village in Monroe County, Florida. It is located between Miami and Key West. The village spans 5 islands in the Florida Keys and boasts some historic and natural sites. The five islands are Tea Table Key, Lower Matecumbe Key, Upper Matecumbe Key, Windley Key, and Plantation Key. The best way to explore this area is to organize a Miami boat rental with crew.
Isla Morada is an incorporated village spanning five islands in the Florida Keys. The name Islamorada came from early Spanish Explorers. The words mean " Purple Island " in Spanish. It is located around 1.5 hours' drive south of Miami by road, and a slightly longer time by boat. The unique geography of the area makes it a favorite getaway from Miami.  Unfortunately, there is often traffic to reach the Florida Keys, so cruising by boat is a better option. On top of bustling tourism during the summer seasons. There is a permanent community living on the islands. In 2010, the census found roughly around 6,000 people residing in the area. There are several housing districts, schools, and communities on Islamorada. If you have seen the Netflix show Bloodline, then you may recognize the surroundings of this island chain. 
What can you do in Islamorada?
This part of the Florida Keys is known for its coral reefs and azure waters. There are several tourism operators that run dive tours and adventure expeditions. In addition, there are beautiful beaches and a history of diving museums to visit. The tropical climate, water, warm water, and beautiful visibility makes this area a popular tourism destination. Since it is so close to Miami, it can be easily reached for a day trip. If you want to partake in any water-based activities, check with Instyle Yachts team who can help you organize your dream holiday.
How can you reach Islamorada?
Islamorada can be reached by car or boat. The best way to avoid traffic and dependence on others is to hire your own private yacht. Instyle Yachts offer a wide range of vessels that can bring you for a day getaway or extended holiday to Islamorada.  Check out the Neptunus 58′ yacht that is your very own floating mansion. With 3 spacious staterooms, ensuite bathrooms, and a large galley you can live in ultimate luxury. Enjoy the cruise to Islamorada and dive straight into the water from your motorized home. The yacht also has a fully equipped galley (kitchen). There are fridges, counters, and stove tops. Instyle Yachts can organize scrumptious lunches and dinner. These yachts can also cruise over the waves in relative comfort and provide a stable platform from what to adventure.
Why choose Instyle Yachts?
This Miami yacht charter company has first-class customer service, safety certifications, and unparalleled luxury. Let Instyle Yachts take care of you from the moment you pick up the phone to call our team until you step off the yacht.