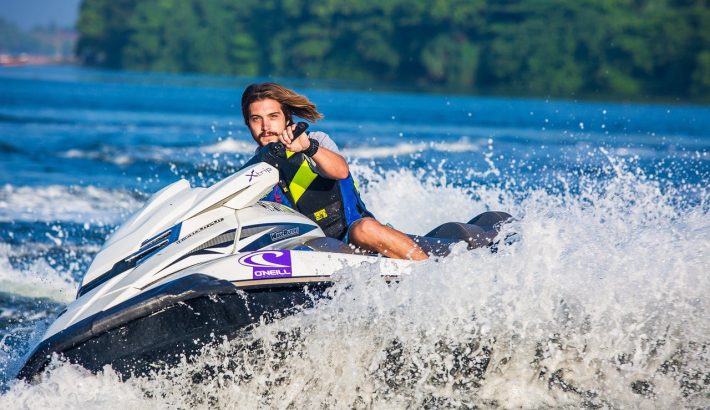 Are you an adventure seeker? Someone looking for a thrill? Or someone wanting to get their Adrenalin pumping? Because if you are, InStyle Yachts has the perfect deal for you. The iconic Neptunus 58' is not only a luxury yacht charter in Miami, but it can come with a jet ski rental Miami. Simply call up the InStyle Yachts team to personalize your itinerary and book a jet ski rental with your private yacht. This way, you and your passengers can experience Miami with all the thrills and prestige.
Why get a jet ski rental?
Jet skis are small, nimble, and they can go quick. With a bit of training, you can take these powerful water motorbikes out for a ride on the azure water. Whether you wish to go solo or ride double, the bumpy ride is exhilarating. Carve figure eights leaving behind a wake and sprout of water. Fulfil your Adrenalin boost while others stay relaxing on board the yacht. You will also be safe with your life jacket and the safety ring attached to your wrist! If you are looking for some advice or training, the friendly InStyle Yachts crew can certainly organize something for you.
Do you need a jet ski license?
All vessels with motors including personal watercrafts operating in Florida must be registered and titled. The rental jet skis are all up to date with their registration, so you do not have to worry. If they have more then ten horse power, then drivers must have a boating education ID and a photo ID when operating the vessel.
This beautifully built luxury yacht has everything a floating mansion would. It has three generous state rooms, private en-suite rooms, ample space, and ergonomic design. The interior is designed with opulence and comfort in mind. Featuring cozy seating and large panoramic windows. In addition, there are fridges, gas burners, and a state-of-the-art sound system. You may wish to sit in the spacious interior or catch some sun on the back deck. If you prefer to sunbathe, there is also abundant space at the front of the yacht to lay down. With all its space and amenities, this yacht can fit a relatively large group comfortably for several days. You can opt to hire a Personalized chef, spend time making cocktails, or jump on board the jet ski.
Where can you go with your yacht?
The beauty of a private yacht charter from Miami is the flexibility offered. Choose to cruise through Biscayne Bay, visit the Flagler Monument, or head out to Florida reef. If you are a fan of sightseeing or simply relaxing, InStyle Yachts can help you achieve just that. So, click here to get in touch and do not hesitate to pick up the phone. The friendly team are eager to help you book the yacht and holiday of your dreams.