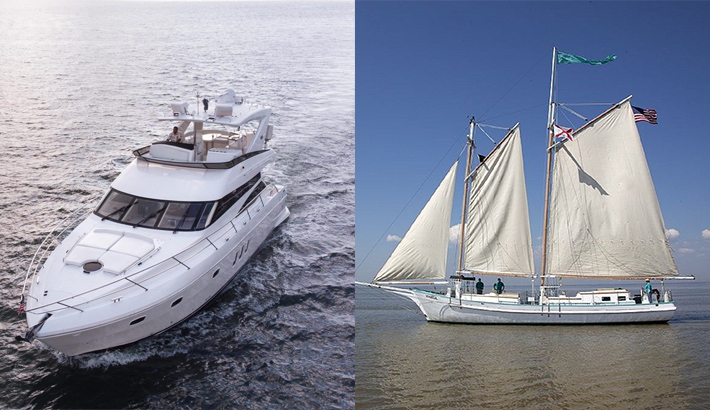 If you have always wanted to cruise along the coast of Miami, then you may have come across the option of renting private yacht charter in Miami. Sailboat charters are another popular option. In this post, you will learn some of the similarities and differences between these two vessel types. That way, you will be able to choose the option best suited for your needs.
A yacht is a craft designed for pleasure and sport. It originally comes from the Dutch word jaght that translates to 'hunter'. It is made for a light sailing vessel used in history to chase pirates and fly in the navy. In 1660, the English King Charles the Second was carried by a 'jacht' from the Netherlands back home. From then, the word came to mean a vessel where important people were carried.
There are two types of yachts, sailing yachts or motor-powered yachts. In terms of size, a yacht can be anything from 30 feet to hundreds of feet long. Nowadays, yachts are associated with luxury and cruising picturesque destinations in style. New developments in materials science and computer modelling have made yachts the cruising kings of the sea. Yachts are built for fun, they can be any size, and at Instyle Yachts are powered by motor.
What can you expect from a yacht charter?
With Instyle yachts, you can charter a private yacht from an hour to a couple of days to enjoy a luxurious getaway. The friendly team can help you choose your ideal vessel and personalize your itinerary. You can choose to motor around Miami, see the coastline, or head to Florida's reef. Why not check out the 58' Neptunus?
Unlike motor yachts, sailboat charters offer wind powered vessels to travel to various coastal and island destinations. They are perfect for a vacation activity or the perfect business event. When chartering a sailboat, you have access to the most unrivalled luxury experience. When the wind is strong enough, the sailboat can move quickly. Otherwise, the sails can be raised for a casual sail.
What can you expect from a sailboat charter?
Sailboat charters can be offered with a skipper or bareboat. The ultimate renewable resource is used to travel across the bay, water, or Florida's reefs. They are also fantastic for team building activities, personal satisfaction, and excitement.
What charter is best for you?
If you are looking for a vessel that can get you to your destination the fastest, then a motor yacht is best for you. If you rather travel through the seas powered by wind, then a sailboat is ideal for you. Either way, a charter vessel is the perfect little floating world of its own. Book your own yacht right here at Instyle Yachts and begin your journey today. Start your own adventure with yacht charters and boat rentals in Miami.