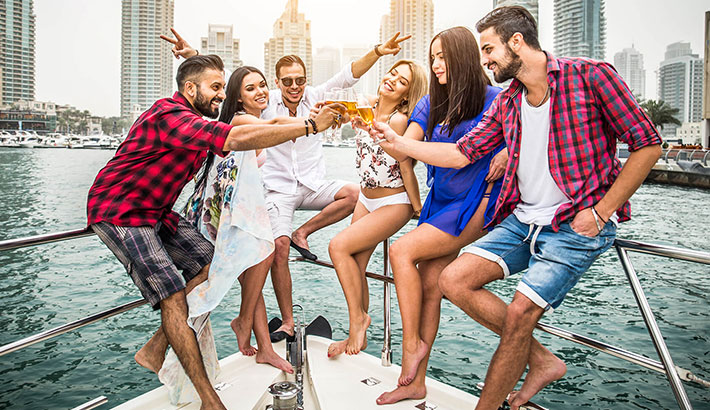 Have you planned on how to celebrate the coming of the new year? After the unforgettable and crazy year that 2020 has been, why not kick it off in the right way? Explore the city of Miami or the stunning Florida coastline on board your luxury yacht. You may wish to hire it for a celebration, an afternoon excursion, or work party. If you may so wish, you may even organize a yacht wedding in Florida.
What to do on a yacht in Miami?
The best way to explore Miami is on a yacht. This way you can experience the beautiful city all the while avoiding traffic and congestion. When you are out on the water, you are free to maneuvers through the rivers and coastline to sight see as you wish. There are plenty of historic sights visible from the water along with nearby reefs to be explored. Depending on how much time you have, you have unlimited possibilities of how to spend your day on the water.
Where may you go with your yacht Miami?
When you rent a private yacht in Miami, you have an endless array of opportunities. The beauty of having your own yacht is a fully customizable itinerary. Enjoy breath taking views of downtown Miami's skyline. You may also cruise past the Port of Miami, Brickell Key, Fisher Island, the Flagler Monument, Star and Hibiscus island. These are just some of the popular tourist hotspots in the area. All these sights feature fantastic architecture, impressive houses, and stunning landscapes. Cruise at your own leisure and speed to fully enjoy your day.
What yacht should you choose?
One of the best yachts to cruise Miami with is the astonishing 58' Neptunus. This beautiful craft was built with the highest quality standards and engineering. It is one of the safest boats in the world created by a Canadian company. It is ideal for onshore or coastal cruising and built for entertaining. This motor yacht has an unparalleled open and spacious design. It also has a concert quality sound system with Bluetooth and DJ connection capabilities. If you wish to choose a smaller vessel, then maybe consider the 36' sundancer. This gorgeous luxury class vessel is built with an impressive mix or performance and comfort. It has a comfortable layout with plenty of storage and a built-in entertainment center.
Where to rent a private yacht?
The best place to rent a yacht is with a qualified and certified company. Instyle Yachts can provide you with world class customer service and fantastic yachts. Therefore, you need to look no further for boat rental in Miami Florida. Book your adventure today.