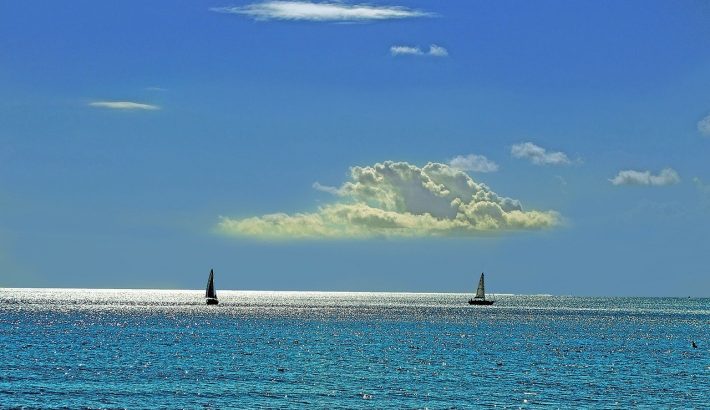 When heading out onto the sea, there are several important things to remember. Along with your fantastic itinerary and adventure that awaits you at sea, so does the sun. The sunny state of Florida has an average of 237 days of sunshine per year. It is therefore likely that your day on a charter yacht will be a sunny one. In this post we will discuss several basics of sun safety on the water in the sunshine state. Whether you hire the yacht out for a party, a yacht wedding, or a simple day on the water. If you want to get started on your booking, get in touch with our friendly and helpful team.
1.Sunscreen is your best friend
The sun's UV rays are the number one cause of premature aging and can potentially cause dangerous skin cancer. For this reason, it is of utmost importance to protect yourself whenever heading out into the sun. When on a boat, the water reflects the sun's rays and can therefore reach you even if you are sitting in the shade. It is recommended to wear 50 SPF on your face and 30 SPF on the rest of your body. If you are headed out to the reef, it would be a good idea to consider reef safe sunscreen. Reef safe sunscreen ensures to protect you without damaging the reef. Keep an eye out for zinc-based sunscreens that provide a physical barrier from the sun.
2.Wear long shirts and sun hats
An even better way to stay protected from the sun's rays is clothing. Protective clothing better guards you against the elements. While sunscreen may wash off after jumping into the water, shirts and sun hats remain an excellent form of protection from the sun. Sun hats can also be fashionable and add style to any photographs taken onboard your private yacht.
While you are out on the water drinking sufficient water is vital to avoid over tiredness and sunstroke. Swimming in the water, sea sickness, and frolicking in the sun are all dehydrating. Ensure to grab some extra water bottles and drink every hour to stay happy and hydrated. If you are drinking alcohol, this can have a particular dehydrating effect. For this reason, make sure to be mindful of drinking enough water.
4.Consider Sea sickness medication
There is nothing that can ruin a day out on the boat quite as much as sea sickness. While you may have never experienced motion sickness in a car or a plane, a boat can bring it out even in the most sure footed of people. For this reason, it is a good idea to consider taking motion sickness tablets prior to your day of adventure. Be mindful if combining medications with alcohol.
What yacht should you book?
For a comfortable family friendly experience, you may consider getting the Neptunus 58'. This vessel is world class in safety and comfortable in design. There are spacious seating options, and plenty of area for children to play and explore. There are smaller vessels that may be better suited for a day cruise. The 36' Sundancer is a fantastic motor yacht that is well suited for day cruising. It has a shade sail for the warm winter sun and comfortable seating for the whole family. Whatever your needs are, contact the helpful Instyle Yachts crew for a personalized itinerary and adventure. Now is your chance to contact Instyle Yachts and organize the best boat rental in Miami Florida.