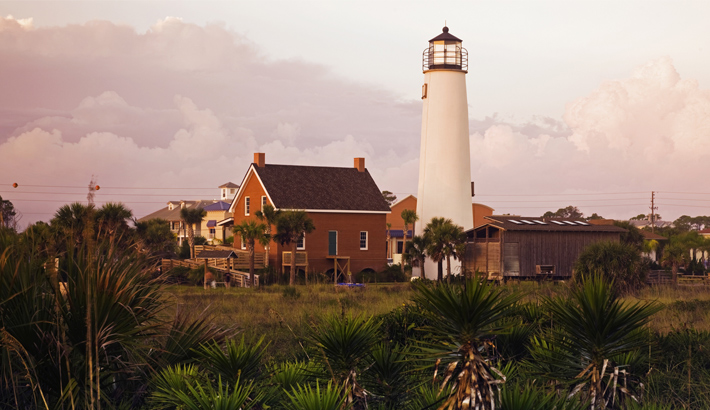 Are you a fan to explore lighthouses? These solitary, rising towers dot a coastline as a staple, and icon of seaside communities. If you enjoy visiting these distinctive buildings, then you will delight in Florida's lighthouses. Trust the architects to build in the most picturesque spots by the ocean. With over 1800 miles of coastline, Florida has twenty-nine lighthouses. Some short, some tall, some still functional, and others purely historical. Not all are open to the public, however you can visit the sights and tour fourteen. For the most unique experience, you may wish to travel by sea. Simply charter your own luxury yacht rental Miami​ and personalize the itinerary to visit these historic buildings.
This quaint little lighthouse is a structure made up of white wooden frames and green shutters. It is a currently active lighthouse constructed in 1890. What makes this lighthouse unique is its relatively small height, standing at only 44 feet tall.
Known for space shuttle launches, Cape Canaveral also recently reopened the lighthouse. It is a canonical iron tower painted with black and white horizontal bands. The lighthouse is 145 feet tall stands within the Cape Canaveral Air Force Station. Be mindful that if you are a foreign national you are required to provide passport information at least 72 hours prior to the tour.
The Cape Florida lighthouse is in Key Biscayne just south of Miami. This lighthouse is probably the most accessible by yacht if you depart from Miami. As an active lighthouse these is a keepers dwelling, detached kitchen, and privy. It was restored in 1996 and is now a museum for the public to visit.
This lighthouse is located on Little St George Island and is only accessible by boat. After it was built on the edge of the water, constant waves eroded the beach. This caused it to develop a significant and dangerous lean. Therefore, it gained the status as Florida's most endangered lighthouse. Since then, the lighthouse was reconstructed upon a new foundation in 2000. The improved and safe tower is now open for public visitation. So do not hesitate and plan your trip to include this gorgeous structure.
While this lighthouse is only open for two days out of the year, it is quite an attractive tourist destination. As the smallest lighthouse in Florida it measures only 33 feet. When you visit it, you will see a white traditional style building that signals with a white lantern constructed in 1854. Check their website about the open days. Otherwise, you may view it from a distance.
The Hillsboro Inlet Lighthouse is located on Pompano Beach in south east Florida. It is a two-colored skeletal structure that reaches 142 feet into the sky. Unfortunately, it is only open for tours four times a year. The area surrounding it is quite picturesque, so visitors frequently add this lighthouse to their check list.
This bright orange lighthouse is in Jupiter on the Atlantic coast of Florida. It is an active lighthouse operated by the Loxahatchee river historical society. Built on a 48-foot Indian mound it has cultural significance and offers tours with history. The Jupiter Inlet is open to the public and has popular daily sunset tours. Make sure to book in advance to secure your spot.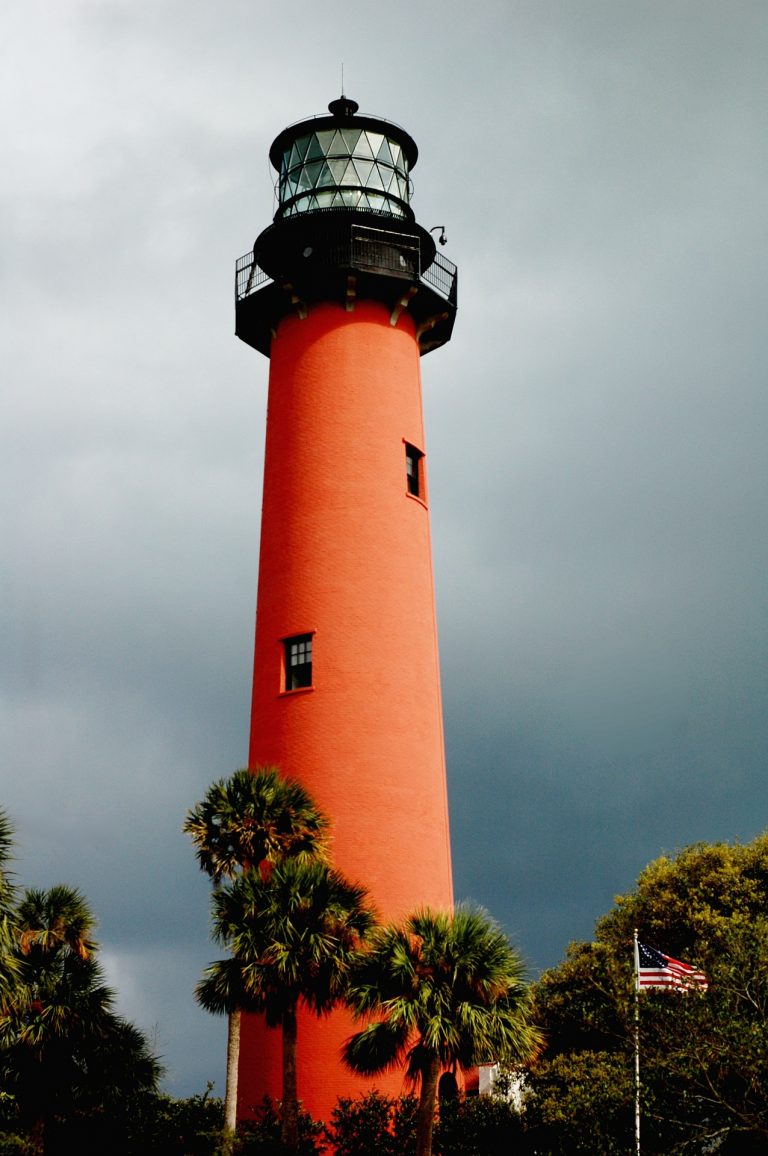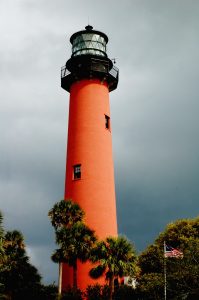 This iconic black lighthouse in the Western Florida panhandle is a currently active lighthouse built in 1856. One of the main draws of this lighthouse is that visitors can watch the Blue Angels practice from a unique perspective. It has also been featured on Ghost Hunters as it is claimed to be haunted. So, head over there to see if you will see a ghost!
These are just some of the explore lighthouses you can check out on the coast of Florida. Take some time to visit these historic structures and see the spectacular panoramic views offered by lighthouse locations. Learn some history, snap photos, and enjoy the Florida seaside. Check out the fleet that Instyle Yachts has on offer for the ultimate seaside yacht charter Miami cruise.